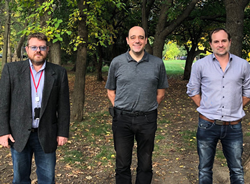 MONTREAL (PRWEB) October 26, 2021
NeuroServo Inc, a Montreal-based medtech startup focusing efforts on EEG for emergency situations and cerebral pathology screening announced that Dr François Marquis is joining as Chief Medical Officer.
Earlier this month, NeuroServo Inc announced that Health-Canada granted a Medical Device License to VEEGix, NeuroServo's EEG.
"Today, we are thrilled to announce that Dr François Marquis, head of the intensive care unit at Montreal's Maisonneuve-Rosemont Hospital, has joined NeuroServo as its Chief Medical Officer and will drive the design and roadmap of VEEGix," said Nicolas Tremblay, President of NeuroServo.
Dr Marquis, who is serving as ICU Chief of Hospital Maisonneuve-Rosemont-Maisonneuve since 2016, is not only a seasoned intensivist but also a serial entrepreneur.
About NeuroServo
NeuroServo is an early stage medical device company developing an instant-reponse portable and wireless prefrontal EEG with real time brainwave analysis and pathology detection.