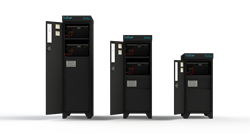 Einstein said, "Everything is energy and that's all there is to it. Match the frequency of the reality you want and you cannot help but get that reality. It can be no other way.
SAN DIEGO (PRWEB) October 22, 2021
SunFusion Energy Systems is a global energy storage manufacturer, building systems in San Diego, CA USA.
Newest UL 1973, UL 9540 with the ULTRA SAFE CELL Technology, Lithium Irion Phosphate with Graphite and Sodium mixture. The Uninterrupted Energy System (UES) system by SunFusion Energy Systems is one for the books, powering a whole home with ease.
The longest most powerful warranty in the energy storage sector is 25-years no prorate.
Home with HVAC, WELL Systems, RV's, water heaters, Range, Oven almost any hi-amp systems in your home.
Having a system with the ability to use Solar PV, generator, utility, wind can all charge the system.
See our website for more information. http://www.sunfusion.us
With the cause of concern in the power grid, also the cost increases from the utility, energy storage is working harder and making headway in the utility sector, as the highly anticipated ECHO system is ready and safe, unlike our competitors' systems being recalled we have no recalls on record or safety violations.
Our systems are priced to be very competitive. Our storage is stackable and very expandable, same with the power output of nearly twice the amount of our competitors.
The smallest system is the ECHO 14kWh/12kW and can also be in the megawatts.
SunFusion Energy Systems is in the works to bring to those in disaster areas a 2MWh Storage with a 650kW Power advanced emergency dispatch system. This will take the place of any generator for days weeks months depending on the disaster with a self-charging system and also a generator back up for cloudy days.