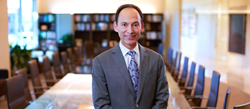 LAS VEGAS (PRWEB) November 01, 2021
The Investment Counsel Company, (ICC) is delighted to report that their Founder and CEO, Randy Garcia, has been ranked as the top financial advisor in Nevada by Dow Jones publications, BARRON'S and the Wall Street Journal. This is the 8th year in a row Garcia has been ranked #1 in Nevada in the state-by-state rankings of the annual list of "Top 1200 Financial Advisors." He is one of only thirteen financial advisors in the nation who have received this honor eight or more times.
Garcia has over 35 years of experience in financial services and is considered an industry expert. He has grown his firm to manage $1.5B in assets under management and built a team that continually strives to provide extraordinary services to their clients. As a result, Garcia is the only advisor in the state of Nevada who has been ranked by BARRON'S and the Wall Street Journal in the Top 100 Independent Financial Advisors throughout the nation. He achieved this ranking in 2019, 2020 and 2021. In addition, Garcia was recognized in Forbes Magazine's October 2020 issue as one of America's Top Wealth Advisors.
It's no surprise that Garcia and his team of advisors and professionals quickly and smoothly adapted to a remote work environment in the wake of the global pandemic. ICC has continued to provide the same level of guidance and client services throughout this period. ICC continues to grow despite the challenges.
ICC provides trusted advice to high net worth families, individuals, foundations and company 401(k) plans. ICC Investment Consultants are fiduciaries seeking to provide unbiased guidance, complete fee transparency and eliminating or disclosing conflicts of interest to focus on all that is important to their clients.
About The Investment Counsel Company (ICC)
ICC is a team of highly accredited financial advisers and professionals who provide individual attention to the investment goals of their clients. The team at ICC has decades of experience in assisting clients with developing customized portfolios with $3,000,000 or more in investable assets.
ICC offers investment management, financial planning, and other solutions to help clients develop a foundation to work toward achieving their financial objectives.
Learn more about ICC by visiting their website at https://iccnv.com/, calling their office at (877) 871-8510 or emailing: rgarcia@iccnv.com.