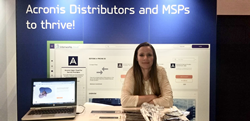 "Our participation during the Acronis Cyberfit Summit was an amazing experience! We connected and engaged with many tech peers and showcased our solution to more than 40 MSPs and Distributors. Thank you all for taking the time to get to know us. See you next year!" Melissa Colerick
THESSALONIKI, Greece (PRWEB) November 08, 2021
interworks.cloud, the leading cloud automation provider which empowers Distributors and Managed Service Providers around the globe, was a proud sponsor of the Acronis #Cyberfit Summit World Tour on October 25-27, in Miami, Florida. The Summit enabled MSPs lead the way in Cyber Protection by bringing together an exciting array of panels, interactive workshops, networking opportunities, and exclusive events with celebrity guests and top IT channel leaders who came together to learn and connect. As a sponsor interworks.cloud was there both physically and virtually, and had the chance to interact and engage with multiple attendants. In fact, we had the pleasure of discussing with more than 40 MSPs and 6 distributors from 5 different global regions on the first 2 days.
Specifically, through insightful sessions, our cloud experts showcased how MSPs can use our latest integration with Acronis Cyber Cloud to deploy an easy Go-to-Market plan, sell through their own-branded Marketplace and promote all available Acronis Cyber Protection services through one Pay-as-you-Grow plan. The attendants praised the effective workflow and the customizable look and feel of the interworks.cloud platform. You can find out more about our tailor-made solutions for MSP and Distributors here.
As an all-in-one cloud solution, the interworks.cloud platform keeps expanding the ecosystems it supports through its integration with Acronis Cyber Cloud, enabling service providers to deliver the best cyber protection in an easy, efficient, and secure way. In fact, the interworks.cloud platform provides a holistic service to Acronis Distributors who can automate the process of onboarding new MSPs and manage their business lifecycle. On top of that, interworks.cloud will be launching a brand-new automation for Acronis MSPs so that they can easily deliver, provision, bill, and manage Acronis Cyber Protect that will help them outmatch the competition. The strategic partnership with Acronis has become stronger and interworks.cloud proudly sponsored this year's #CyberFit Summit.
Following our presence at the Acronis Miami Cyberfit Summit, interworks.cloud will also be at the respective Summits in Schaffhausen, from 18 to 19 November and in Dubai from 8 to 9 December. Join us there!
About interworks.cloud: Capitalizing on two decades of experience, interworks.cloud has developed a state-of-the-art cloud brokerage platform that transforms traditional IT service businesses into powerful Cloud Solution Providers. Addressing the needs IT sellers all over the world, the interworks.cloud platform automates key cloud service processes, such as billing, ordering, invoicing, and recurring payments for Office 365, Microsoft Azure, Microsoft ESD, Acronis, Google Workspace, and other IaaS and SaaS solutions.