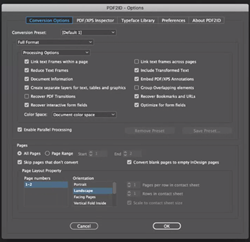 "PDF2ID 2022 utilizes the capabilities of the Apple Silicon platform to the fullest, ensuring exceptional performance gains while integrating with the core features of Adobe InDesign, 2022 release" - Paramjit Chadha, MD, Recosoft Corporation
OSAKA, Japan (PRWEB) November 04, 2021
PDF2ID 2022 integrates with Adobe InDesign, 2022 release while supporting InDesign CC 2015 through 2021 releases for both macOS and Windows platforms. PDF2ID 2022 is also a universal binary delivering optimal performance on Apple Silicon based macOS machines. Finally, PDF2ID 2022 includes a Contact Sheet property setting allowing anyone to further fine-tune PDF to InDesign conversions.
PDF2ID 2022 is available immediately in the following configurations from the Recosoft web store (per license):

PDF2ID Standard 2022 US$ 199.00
PDF2ID Professional 2022 US$ 299.00
PDF2ID Standard 2022 Upgrade US$ 99.00
PDF2ID Professional 2022 Upgrade US$ 149.00
PDF2ID converts PDF and Windows XPS files into fully editable InDesign files allowing PDF and XPS file content recovery and reuse within InDesign. PDF2ID is the de-facto PDF conversion plug-in for InDesign, allowing anyone to open, convert and edit PDF and XPS documents in InDesign; eliminating the need to acquire additional PDF and XPS conversion tools.
Key New Features
Support has been added for InDesign 2022 (InDesign CC 2015 to InDesign 2021 releases are supported as well).
PDF2ID 2022 operates natively on Apple Silicon machines and supports Rosetta mode (if required).
macOS Concurrent Processing
The entire Parallel Processing mechanism for the Mac now use macOS native Concurrent Processing technology resulting in about a 50% speed up when processing documents with more than 20 pages (applies to PDF2ID Professional for macOS only).
Enhanced Conversion Speed
The conversion speed has been improved by about 20% in general (applies to PDF2ID Standard/Professional).
Contact Sheet Page property
Contact sheet page property has been added, which allows specifying a particular page range as a contact sheet type; the number of sheets per row and number of columns can be specified. Contact sheet pages are also scaled up automatically to the media size.
Migration to newer Windows technology set
The Windows version of PDF2ID now uses newer Windows infrastructure.
Deprecation of older InDesign
Support for InDesign CC (v9.x)/CC 2014 (v10.x) have been removed simplifying deployments.
General conversion and stability improvements
Numerous conversion and stability improvements have been made throughout the PDF to InDesign conversion processing core.
System Requirements
Mac OS: macOS 10.12.x or higher
Hardware: Apple Silicon or Intel based Mac
Application: Adobe InDesign (CC 2015 to 2022 releases)
Windows: Windows 10, Windows 11
Hardware: Minimum Pentium III computer
Application: Adobe InDesign (CC 2015 to 2022 releases)
Recosoft Corporation has pioneered PDF2Office®, the de-facto PDF-to-Excel, PDF-to-Word, PDF-to-PowerPoint, PDF-to-OmniGraffle conversion utility; PDF2Office® for iWork, the PDF-to-Keynote, PDF-to-Numbers and PDF-to-Pages conversion application; IR2Office, the only Adobe Illustrator to PowerPoint and Apple Keynote tool; ID2Office, the InDesign-to-Word, InDesign-to-PowerPoint converter; and PDF2ID® the de-facto PDF-to-InDesign conversion tool. The company is a leader in designing and delivering PDF converters, InDesign and Illustrator software solutions enhancing workflow automation and productivity. For more information on Recosoft PDF converters and InDesign or Illustrator related solutions, visit http://www.recosoft.com
Contact Information
Recosoft Corporation
Hommachi 1-5-6, Chuo-ku, Osaka, Japan
Fax: +81-6-6260-5543
http://www.recosoft.com
©Copyright 2021 Recosoft Corporation
IR2Office, ID2Office, PDF2Office, PDF2ID, PDFtoID are trademarks or registered trademarks of Recosoft Corporation in the US and/or other countries. Microsoft, Excel, PowerPoint, Word and the Office logo are trademarks or registered trademarks of Microsoft Corporation in the US and/or other countries. Adobe, InDesign, Illustrator and Creative Cloud are either registered trademarks or trademarks of Adobe in the US and/or other countries. Apple, Macintosh, macOS, Mac, Numbers, Keynote, Pages, iWork, iPod, iPhone, iOS, iPAD are either trademarks or registered trademarks of Apple, Inc. in the US and or other countries. All other trademarks are recognized and are the property of their respective owners.