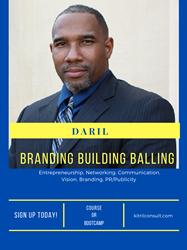 This amazing course will reduce the time or expedite the process for establishing a brand.
MONROE, La. (PRWEB) November 18, 2021
According to the multitalented entrepreneur Damon "DaRil" Nailer, everyone is a living, breathing, walking brand. It's just a matter of digging deep within and finding it. As he says it best, "My goal is to empower individuals to discover the inner treasure and tap into the personal brand, which will lead to satisfying, fulfilling employment, the formation of a product, or the creation of a service." In his new course, he successfully accomplishes this objective.
Thorough, intriguing, fulfilling, inspiring, informative, transformational, and appealing are words that describe the Branding, Building, Balling (BBB) course. Designed for the aspiring or existing entrepreneur, business owner, leader, supervisor, manager, author, or creative, BBB takes the student on a splendid journey, beginning with personal development and then moving through various concepts that are relevant to most organizations/entities. It is guaranteed to provide clarity, direction, and wisdom that will transform individuals as well as businesses or agencies. This amazing course will reduce the time or expedite the process for establishing a brand. Branding, Building, Balling covers the following topics: the definition/components of a brand, secrets for effective communication/networking, tools for selecting, training, and motivating a team, methods for streamlining/aligning a vision and message, keys to obtaining publication features/interviews, the power of PR/publicity, strategies for leveraging a brand to gain employment, contracts, or clients, and so much more. Here is the link to the course- https://rillifeacademy.thinkific.com/courses/branding-building-balling
Additionally, individuals or groups who prefer a more personalized, hands-on approach can register for one of the various Branding, Building, Balling Bootcamp sessions that will be facilitated by DaRil. Visit https://www.kitrilconsult.com/ to sign up for one-to-one sessions or register for the upcoming BBB Bootcamps here- https://www.eventbrite.com/e/191742315427.
The creator of this dynamic course, Damon DaRil Nailer, has been successfully positioned as an international authority and expert. Due to his expertise, insight, and experience, he has been featured 200+ times in various media outlets. Some of his notable publication features include the Huffington Post, Thrive Global, Reader's Digest, MSN, Yahoo, Yahoo Finance, Goalcast, Newsbreak, Insider, Best Life, and Redbook.
Biographical Information
Multifaceted, passionate, and skilled all describe Damon "DaRil" Nailer. With hundreds of speaking engagements and many published works under his belt, Damon has become known as a "Renaissance Man", Inspirational Communicator, Gift Guru, and Authority/Expert who is able to provide direction, inspiration, and education to any audience. Mr. Nailer possesses a wealth of knowledge in the following areas: educational, entrepreneurial/business, religious, entertainment, relationships, leadership, and parenting.
Currently, Damon serves as a parent educator with the Children's Coalition of Northeast Louisiana and as a regional coach for Intuitive Synergies, LLC. He has been trained in Cultural Intuitiveness, and he is a certified facilitator for the following programs: Adverse Childhood Experiences (ACE's), The Positive Parenting Program (Triple P), and The Nurturing Parenting Program (NPP). Additionally, he wears the hats of author, speaker, and consultant. He facilitates workshops that cover leadership training, branding, team building, networking, entrepreneurship, gift/talent development, relationships, spirituality, youth empowerment, communication, and self-improvement.
For more information, visit https://www.kitrilconsult.com/.