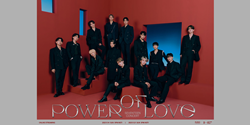 LOS ANGELES (PRWEB) November 02, 2021
VenewLive, the livestreaming platform powered by Kiswe, will host K-pop superstars SEVENTEEN in three exclusive virtual concerts celebrating their 2021 "Power of 'Love" Project.
Set to livestream all over the word, each show will feature different stages and concepts with the themes "power" and "love" respectively. "POWER" will take place on November 14 at 5pm KST, followed by "LOVE" on November 21 at 5pm KST. The concerts will follow SEVENTEEN's release of their highly anticipated 9th EP "Attacca," which has recorded more than 1.33 million physical album sales in the first week of release. SEVENTEEN's November concerts will also follow several other chart dominating releases by the band, including their No. 1 charting EP, "Your Choice," and double platinum singles, "Happy Ending" and "Not Alone," which all surpassed 1 million sales after their releases earlier this year. The concert on November 18 will be a special Japanese edition for fans in Japan.
With global streaming capabilities, VenewLive offers a uniquely personalized experience for fans around the world. This interactive and immersive concert will allow viewers to interact with each other via the chat feature.
For more information on how to purchase tickets visit: Weverse App, Weverse Shop or VenewLive.
_____________________________________
About SEVENTEEN:
Racking up 2 billion streams and selling 10million albums, SEVENTEEN—comprised of S.COUPS, JEONGHAN, JOSHUA, JUN, HOSHI, WONWOO, WOOZI, THE 8, MINGYU, DK, SEUNGKWAN, VERNON and DINO—has rocketed to the forefront of the music scene fueled by a fiercely independent spirit and nonpareil in-house creative ecosystem. The group's innovative structure hinges on the interplay of three units: hip-hop, vocal, and performance. Living up to the title of "musical all-stars," SEVENTEEN has unassumingly made history and become one of the biggest groups ever due to their world-class synchronization, jaw-dropping choreography, and tight teamwork. Moving at an unparalleled pace, the global performance powerhouse recently made their U.S. television debut on The Late Late Show with James Gorden and followed it with unforgettable performances on The Kelly Clarkson Show, The Ellen DeGeneres Show, Jimmy Kimmel Live! and MTV's Fresh Out Live. SEVENTEEN's latest EP Your Choice debuted at No. 1 on Billboard's Top Album Sales chart and No. 15 on the Billboard 200. It also recorded the highest first-week sales for any album released in Korea in the first half of 2021, earning them the "quadruple million sellers" title as it joins their last three consecutive releases—An Ode, Heng:garæ and ; [Semicolon]—in selling over 1 million copies each.
About VenewLive
VenewLive is a Digital Live Performance Streaming Platform, powered by Kiswe, that delivers a unique immersive experience to global music fans, expanding viewership beyond physical venues. Our Multi-View technology enlivens the artists' performances, delivering on-stage magic and energy to fans virtually. Through our digital interactive features, the fans will feel seen and valued by the artists and enjoy a collective viewing experience with other fans.
About Kiswe
Kiswe is the interactive video company that links content owners directly with their global audiences. With its world-class Cloud Video Engine, Kiswe has delivered the world's largest digital pay-per-view events and serves the largest sports, media, and entertainment companies with its production, content distribution, and direct audience data solutions. Kiswe is leading the video 2.0 revolution with its interactive video technology, where audiences both consume and contribute to live digital content. Kiswe is headquartered in New Jersey, USA and has offices in New York, Seoul, Hasselt and Singapore. Learn more at http://www.kiswe.com.
Media Inquiries
Cassady Nordeen
Cassady@purposenorthamerica.com