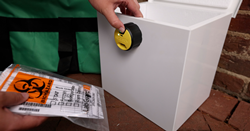 BoxLock Control, the company's cloud-based platform for managing data and devices, integrates into route management and lab information management systems to help reduce empty stops which account for roughly 30% of all specimen pickup attempts.
ATLANTA (PRWEB) November 02, 2021
BoxLock, the supply chain access control platform, announced today at The Executive War College on Lab and Pathology Management, the rollout of an updated suite of specimen logistics solutions to meet the most demanding needs of laboratory customers.
Over 13 billion specimens were collected annually in the United States pre-pandemic. It's estimated that over 70% of errors in the clinical testing process occur in the pre-analytical phase before the specimen ever reaches the laboratory for processing.
BoxLock's new Cam Lock form factor includes Parsyl environmental sensor support, X-Ray capabilities and new hold time metrics so that laboratories can better service their clients with higher quality lab results, more reliable, efficient specimen logistics and enhanced visibility. BoxLock Control, the company's cloud-based platform for managing data and devices, integrates into route management and lab information management systems to help reduce empty stops which account for roughly 30% of all specimen pickup attempts.
Currently in market with a number of regional and national laboratories, BoxLock's specimen logistics solution reduces pre-analytical errors by giving labs and clinics insights into whether there are specimens available for pickup, how many specimens there are, the environmental conditions of the lab box and critical specimens along with the hold time. This historically elusive information is key to filling in the gap between specimen collection and specimen transportation.
For environmental monitoring, BoxLock has partnered with Parsyl, the supply chain data platform, makers of the Trek Tab and Trek Pro sensors. With the IoT devices from both companies and the underlying data, BoxLock and Parsyl are able to provide critical tools to monitor, prevent and protect specimen quality resulting from adverse conditions. This unique partnership creates an innovative and powerful way for laboratories to maintain the security and quality controls for their specimens throughout the preanalytical phase from clinic to laboratory.
Working with students and professors from Georgia Tech Supply Chain and Logistics Institute, BoxLock leverages customers' existing data to help identify how to maximize the potential route savings. The net results in less drivers needed to service a larger customer base which is critical with labor shortage challenges.
BoxLock's specimen logistics solutions are available from the company's website at http://www.getboxlock.com/specimen-logistics and will additionally be available for purchase from McShane Welding, the nation's proven leader in secure, courier, lab pickup box solutions. This partnership makes BoxLock's platform as a service solution available as an add-on to the customized boxes that labs are currently purchasing through the same supplier most laboratories are procuring their lab boxes today.
BoxLock partners with in-house supply chain and logistics leaders in healthcare, aviation, operations and B2B e-Commerce sectors to provide customers with a unique suite of solutions that combine market leading IoT capabilities with advanced, practical tools for inventory management and access controls.
About BoxLock
BoxLock's innovative supply chain access control platform helps businesses protect, track, and transfer assets. The company's inventory, access, and security solutions make supply chains more efficient, accountable, and reliable wherever assets are stored or transferred. BoxLock's smart devices and pioneering software platform seamlessly integrate into existing business systems, enabling companies unparalleled control over all facets of their supply chain, from pickup to delivery, and all points in between. The company's transformative solutions are used by customers in healthcare, aviation, operations, logistics, and distribution. BoxLock is headquartered in Atlanta, GA. Find out more or book a consultation at http://www.getboxlock.com
About Parsyl
Parsyl is a fully integrated, data-driven insurer of essential supply chains. Parsyl's combined IoT and software solution helps shippers of refrigerated cargo understand, mitigate and insure risks to goods as they move through the supply chain, both in transit and storage. Customers have the option of using Parsyl's proprietary sensing devices or can integrate their own devices with the Parsyl platform. Parsyl is an approved Coverholder with Lloyd's of London the premier market for hard to place risk. Parsyl is based in Denver and can be found at parsyl.com or on Twitter @ParsylHQ.
About McShane Welding
McShane is the leader in lockable box solutions for securing lab specimens, on-site documents, or other items until pick up by an authorized individual or courier. McShane Welding was founded and incorporated in December of 1973 by William McShane; business began operations in February of 1974. William, age 53, had worked in fabrication all his life and was previously employed at Erie Steel Products before striking out on his own. William's business philosophy was to provide a quality product and the best service possible for his customers. Today, Jim McShane, William's son, carries on that same belief in customer service.