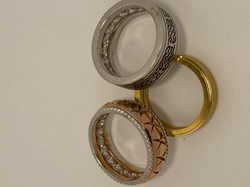 For The Man Who Has Achieved A Level Of Success And Has Nothing To Prove
ESTERO, Fla. (PRWEB) November 03, 2021
http://www.PinnacleJewelers.com Inc. has created the most unique, innovative, ultra-cool concept in Men's Wedding Bands ever imagined.
Right up front, our wedding bands are not for everyone. They are for the man with confidence, a high level of control, self-worth, and who would prefer to show his love exceptionally and not flaunt it.
One look at the attached photo, and you will completely understand our Trademark/Tagline: For The Man Who Has Achieved A Level Of Success And Has Nothing To Prove!
The thought behind this unique idea is that a particular class of men with wealth and success would prefer not to be flashy and flaunt their status yet still desire a ring that reflects superiority and excellence. Typically these men are private and self-confident. They prefer a ring of high value and sentiment yet not pretentious. My "patent-pending" ring has 25 flawless diamonds inlaid underneath the band; therefore, only the man and his lifelong partner know the treasure inside. These individuals have nothing to prove because when they walk into a crowded room, deliver a speech, or are spotted in a hotel lobby everyone already knows who they are and what they have achieved.
Each of our Pinnacle Rings is handmade using only the finest quality precious metals and highest-grade diamonds in the world. You can choose from 18K Gold, 18K Rose Gold, 18K White Gold, Platinum, or 18K Two-Tone Gold. As with each of the precious metals, we only use the absolute most refined precise grade of diamonds.
http://www.PinnacleJewelers.com is a high-end, old-school company that
still believes that superior customer service is the cornerstone of achieving lifelong customers. At Pinnacle Jewelers, Inc., we understand that with overnight worldwide shipping, operational and executive transparency, the finest precious metals and flawless diamonds, and time-honored craftsmanship, we will demonstrate that "we have nothing to prove". We are the best for all the right reasons.
Owner/Inventor
Michael DeVolder, mobile 239-370-4444
Mike@MikeDeVolder.com
Sales@PinnacleJewelers.com
21771 Arenga Lane
Estero, Florida 33928
http://www.PinnacleJewelers.com