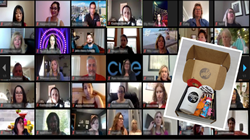 "Since the most effective team bonding events involve in-person, experiential components, we carefully crafted each Mystery Game to capture the same delightfully unique nature of our live offerings," said company Founder and Chief Mysterious Officer, Dave Green.
LOS ANGELES (PRWEB) November 04, 2021
Mystery Trip, an independent corporate events company that has built custom team bonding experiences since 2009 for major brands like Gitlab, Google, L'Oreal and Deloitte, today announced the launch of Mystery Games, an innovative hybrid team building solution designed to forge meaningful connections between remote employees.
Through hybridizing virtual and tactile, in-person components, Mystery Games drives team bonding and engagement. To engender shared surprise, a package of client-selected and game-specific items is first shipped directly to participants who receive instructions not to open them until the event. Then, on game day, players compete to win prizes.
With six games launching today, more will be announced soon.
Current titles include:

Minute to Win It - Inspired by the NBC show, players accomplish off-the-wall objectives like putting M&Ms into a cup using a straw for suction
Game of Games - A combination of mini-games like "Scattergories"
Photographic Scavenger Hunt - Players compete to find random objects and complete silly tasks
Family Feud - Inspired by the classic game show, the team who responds with the most popular answers wins
Pub-style trivia - A five-round pop culture Q&A game
Holiday and company-themed games - "Mysterious Spooktacular," "Office Olympics," etc.
"Since the most effective team bonding events involve in-person, experiential components, we carefully crafted each Mystery Game to capture the same delightfully unique nature of our live offerings," said company Founder and Chief Mysterious Officer, Dave Green. "While in beta, our games showed immediate results for clients seeking engaging new ways to drive camaraderie between employees."
During beta testing, over 5,000 individuals worldwide from 450 groups like Harvard University, Intuit, the American Bar Association and New York Public Radio played online Mystery Games.
One client, AristaMD, a leading digital health company that provides eConsult solutions to connect primary care providers (PCPs) with timely, documented specialist insights, became an early adopter of Mystery Trip's suite of hybrid products.
"Throughout the pandemic, Mystery Trip has consistently kept my team connected through their innovative and well-thought-out events," says Brooke LaVasseur, AristaMD's CEO. "It really is wonderful to take a break from the solitude of remote work and get back to sharing fun experiences with colleagues."
Adds Green, "Surprise is part of our company's DNA. It's vital to creating memorable celebrations which forge strong team bonds."
Mystery Trip will debut its new products on Monday, November 8, as part of Smart Monday, powered by MPI, at IMEX America, a globally-renowned gathering of business event professionals which is considered to be the "heartbeat of the global business events community."
"We're delighted that Mystery Trip chose IMEX America as a platform to launch their new team bonding experiences – the business events community is in for a real treat," says IMEX Group CEO, Carina Bauer.
To learn more about Mystery Games and book an event, go to https://mysterygames.mysterytrip.co.
To join Mystery Trip at IMEX America in Las Vegas on November 8, go to https://imex.mysterytrip.co.
ABOUT MYSTERY TRIP
Founded in 2009 by Dave Green, Mystery Trip's mission is to create the types of team bonding experiences that foster innovative ideas. The "mystery" of every trip - whether in-person, virtual or hybrid - is that no one knows what they'll do until experiencing it together. This shared surprise unites teammates organically, flattening hierarchies. Mystery Trip's events have delighted hundreds of companies like Google, Red Bull Chevron, Tiffany & Company and SpaceX. For more information, visit https://mysterytrip.co.
ABOUT THE IMEX GROUP
IMEX America 2021, America's worldwide exhibition for incentive travel, meetings & events, will take place 9 – 11 November at its new location – Mandalay Bay in Las Vegas, preceded by Smart Monday, powered by MPI on 8 November. http://www.imexamerica.com
ABOUT ARISTAMD
AristaMD is focused on improving patient outcomes through more timely access to specialty care. Its eConsult platform provides a telehealth solution that empowers primary care providers to conduct electronic consults (also known as eConsults or virtual consults) to significantly improve the patient referral process and allow greater access to timely, high-quality care. Designed to seamlessly integrate into physician referral workflows, the platform allows payers and providers to quickly and cost-effectively launch specialist eConsults using their own specialists or those provided by AristaMD's board-certified panel of experts. AristaMD's platform has proven to deliver cost-effective, timely access to specialty care through eConsults, significantly reducing the need for face-to-face visits while increasing patient satisfaction. AristaMD partners with healthcare stakeholders to ensure their success in the transition to value-based care. For additional information, visit aristamd.com, or follow AristaMD on LinkedIn and Twitter.