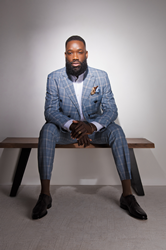 We now have a front-row seat to many talented professionals battle with addiction, anxiety, to difficulty managing their anger which sometimes results in violence and abuse to themselves or others
LOS ANGELES (PRWEB) November 15, 2021
Media & music industry veteran Marvin Houston marks January 1, 2022, as the launch date for his latest business and service venture as an Entertainment Health & Wellness Coach under his newly minted Houston & Associates, LLC banner.
The New York City-based Houston & Associates is an exclusive support agency designed to provide coaching, holistic care, education, and resources to individuals within the entertainment industry. The company will serve as a resource to record labels and entertainment companies, support entertainment executives, creative producers, and talent nationally.
Clients can obtain the help and support they need with various coaching services - career burnout, relief from depression and anxiety, conflict resolution, drug and alcohol abuse, identity crisis/exploration, and more.
"From social media to the news, we've witnessed how fame or the ongoing pressure from fans and publicity contributed to some of our brightest stars dying by suicide. We now have a front-row seat to many talented professionals battle with addiction, anxiety, to difficulty managing their anger which sometimes results in violence and abuse to themselves or others," says Houston.
Addressing these very public mental health issues within the entertainment industry, Houston has developed the MENTAL HEALTH 101 WORKSHOP for ENTERTAINMENT Professionals. The educational seminar is uniquely designed for individuals in the entertainment industry that teaches individuals how to identify, understand, and respond to signs of mental illnesses and addictions. It also provides relevant strategies and ways to help someone developing or experiencing a mental health or substance abuse crisis.
Houston brings more than 20 years of entertainment and mental health experience into his new role. As a graduate of Full Sail University with a bachelor's degree in Music Business, he also possesses a master's degree in Clinical Mental Health Counseling from Capella University. Houston is also a Kemetic Reiki Practitioner, Certified Anger Management Specialist, and Certified Sound Therapy Practitioner.
For more information about contacting or booking a session with the Entertainment Health & Wellness Coach, contact him at MarvinHouston.com. In response to the COVID-19 pandemic, sessions are currently virtual, and there are limited in-person sessions available in Houston's New York City or Atlanta offices.