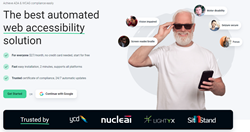 It's our mission to bridge this gap by working with businesses and communities to provide accessibility tools that make online content, services, and platforms equally accessible to everyone, and making it affordable for every website operator to do so
LISBON, Portugal (PRWEB) November 03, 2021
Equally AI, a web accessibility solution dedicated to providing remarkable browsing experiences for people living with impairments, joins Web Summit 2021, the largest technology conference in the world.
Taking place November 1 - 4, 2021, at the Altice Arena & Fil in Lisbon, Portugal, the conference features more than 700 speakers, including prominent celebrities, like Amy Pohler, and c-suite executives from leading tech companies, from Apple, Microsoft, and Amazon to Facebook, and more.
Equally AI's mission is to provide the best web experience for people with disabilities while offering a simple, beautiful and revolutionary automated web customization software designed to help businesses ensure ADA & WCAG compliance. The solution is automatic and fully customized, simplifying and personalizing equal web access like never before.
"We launched Equally AI when COVID-19 lockdown restrictions brought more people online than ever before. Today, web access is central to the ways we live, work, and connect with other people," said Ran Ronen, co-founder and CEO of Equally AI.
He adds, "Unfortunately, today's internet is devastatingly unequal, prohibiting millions of people living with impairments from capitalizing on the new tech-driven, digital age. It's our mission to bridge this gap by working with businesses and communities to provide accessibility tools that make online content, services, and platforms equally accessible to everyone, and making it affordable for every website operator to do so."
As brands, businesses, and marketing teams create and refine content for their growing platforms, equal web access is foundational to their success, allowing them to engage a broader audience, retain user loyalty, and achieve regulatory compliance.
Visit Equally AI at exhibiting stand number A409 on Wednesday, November 3. Stay tuned for new research and announcements from Equally
AI and learn more by visiting https://equally.ai/.
About Equally AI
Equally AI is an automated web accessibility solution committed to making the internet a better experience for everyone. Founded by a team of tech veterans, Equally AI delivers a world-class, secure, convenient, and modern accessibility experience for beneficiaries and businesses. Visit Equally.AI for more information and follow the company's updates on LinkedIn.