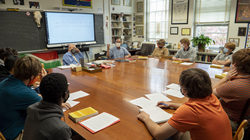 We hope the program, by bringing eminent writers and artists to the school and into Woodberry's studios and classrooms, will expand the world — and the world of ideas — exponentially for generations of Woodberry students to come
WOODBERRY FOREST, Va. (PRWEB) November 09, 2021
Woodberry Forest School is pleased to announce that author Kent Meyers is the school's first White Family Artist-in-Residence.
Meyers, the author of short fiction, a memoir, and three award-winning novels that focus on the High Plains, is focused on prose writing during his time on campus. He arrived in mid-October and is spending a month working with students in small groups and one-on-one sessions, working especially closely with senior creative writing students taught by English teacher Ben Hale.
The artist-in-residence program is designed to support long-term stays by writers and artists, giving students sustained contact with working professionals. The program also offers writers and artists the opportunity to advance their own work while living on Woodberry's bucolic campus, which stretches across 1,200 acres of Virginia countryside.
"I've been very impressed with the students, faculty, and program here," Meyers said. "I've also enjoyed the chance to explore Woodberry's beautiful grounds and imbibe the history of the area."
Both Kip White '99 and Grant White '00 credit their years at Woodberry with instilling in them an enduring love of literature and art. It was in the hopes of helping current students experience this same discovery that the brothers have established in conjunction with their parents, Gail and Frayser White III, the White Family Artist-in-Residence Program.
"We hope the program, by bringing eminent writers and artists to the school and into Woodberry's studios and classrooms, will expand the world — and the world of ideas — exponentially for generations of Woodberry students to come," Kip said.
David Huddle, a Virginia native and novelist who was a professor at the University of Vermont, will serve as the second White Family Artist-in-Residence, working with students during the spring of 2022. Huddle, who has published ten novels and a similar number of poetry and essay collections, will teach poetry during his visit to campus. He is the recipient of two National Endowment for the Arts fellowships.
Woodberry Forest School is one of the nation's only all-boys, all-boarding schools. Woodberry is home to 400 boys in grades nine through twelve. Among the school's extracurricular offerings is The Talon, the student literary magazine. The Talon is consistently recognized by professional publishing associations as one of the top student literary magazines in the country.