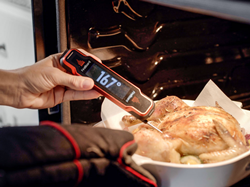 "The FireBoard Spark is more than just an instant-read thermometer, it's a game changer for chefs at home or in the restaurant," said Ted Conrad, CEO at FireBoard Labs.
KANSAS CITY, Mo. (PRWEB) November 09, 2021
FireBoard Labs, a developer of cloud-connected smart thermometers, today announced the launch of the FireBoard® Spark, a 4-in-1, instant-read probe thermometer and food-tracking hub. The FireBoard Spark combines a folding instant-read thermometer, a leave-in meat probe, an NFC scanner, and a Wifi-connected remote monitor into a single, compact, hand-held device. The Spark offers home cooks, barbecue enthusiasts, and restaurant chefs a fast and accurate tool to take instant temperature readings or remotely monitor and track food temperatures throughout longer cooks via its companion app. Preorders for the FireBoard Spark open on November 9th, with first shipments beginning on or around November 29th. The FireBoard Spark carries an MSRP of $149. For more information on the FireBoard Spark or to pre-order, please visit https://www.fireboard.com/spark.
The FireBoard Spark allows professional and home cooks alike to ensure meats are cooked to safe temperatures, nailing the perfect medium-rare every time. With its Wifi and Bluetooth connectivity, the Spark can also catalogue temperature data via the Fireboard companion app. Featuring an onboard probe port, Spark can enable continuous monitoring of foods as they cook in the oven, on the grill, or in the smoker. With temperature data streaming live to the FireBoard app, food readings are accessible anytime and anywhere the chef may roam. The Spark's onboard rechargeable Li-Ion battery can last up to a full year on a single charge, and eliminates the need for consumers to change batteries.
"The FireBoard Spark is more than just an instant-read thermometer, it's a game changer for chefs at home or in the restaurant," said Ted Conrad, CEO at FireBoard Labs. "The Spark streamlines food safety workflow by simplifying food safety checks. We've turned the pocket-sized instant-read thermometer into a smart connected device for all your food monitoring needs."
The Spark's IoT capabilities will also foster some advanced features sure to be enjoyed by commercial kitchens and barbecue competition enthusiasts. For existing users of the company's line of FireBoard connected probe thermometers and barbecue controllers, Spark will feature a new SyncMode enabling it to display probe temperatures from other FireBoard smart thermometers. For commercial food services, an embedded NFC scanner will offer a sanitary, hands-free mechanism to seamlessly monitor numerous food targets by tapping the Spark on an RFID chip before taking a reading.
Features and benefits of the FireBoard Spark include:

Speed & Accuracy: Instant-read thermocouple probe delivers fast and accurate temperature readings between -58 to 572˚F (-50 to 300˚C)
Monitor Temps from Anywhere: Wifi, Bluetooth 4.0 (BLE) and FireBoard Cloud enabled allowing remote access to temperature data from anywhere via the FireBoard Mobile App or desktop platform
Continuous Monitoring: Leave-In probe input enables remote monitoring of long cooking sessions via the FireBoard app
Hands-Free Scanning: NFC scanner streamlines labeling of instant readings to be catalogued by the FireBoard app
SyncMode: Enables the Spark to serve as a remote monitor for interconnected FireBoard units-
Long-Life Rechargeable Battery: USB-C rechargeable Li-Ion battery provides 12+ months of normal use on a single charge
Waterproofing: Rated to IP66, the Spark can withstand light rain and routine hand washing
The FireBoard Spark will be available for pre-order starting November 9th, and will retail for $149. Preorders are expected to ship to customers in time for the holiday gift-giving season. For more information, or to pre-order the FireBoard Spark, visit fireboard.com/spark.
About FireBoard Labs: Founded in 2015, FireBoard Labs delivers industry-leading, professional quality, cloud-connected temperature tracking and monitoring solutions for home and industrial use. FireBoard Labs products are sold across North America and several international countries. Headquartered in Kansas City, MO, all FireBoard Labs products are designed and assembled in the United States. For more information, visit fireboard.com.
Media Contacts:
Robert Laughter Director of Marketing
FireBoard Labs
816-945-2232
robert@fireboard.com
Zach Heath
Engage Communications
401-559-7350
zach@engagecoms.com