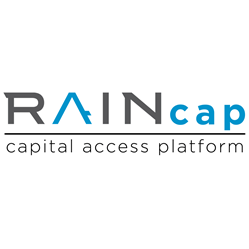 "We needed to find the right partners to launch an Oregon-specific crowdfunding platform that would help fill the capital gap and enable would-be entrepreneurs to make the leap into business ownership, creating jobs and stimulating Oregon's economy." - Caroline Cummings, RAIN CEO
EUGENE, Ore. (PRWEB) November 09, 2021
RAIN (Regional Accelerator & Innovation Network) is launching a new initiative before the end of this calendar year to help Oregon startups and small businesses raise funds to launch and grow. Even before the COVID-19 pandemic hit, one of the challenges Oregon entrepreneurs had was finding capital to start and grow their businesses.
RAIN discovered 83% of entrepreneurs don't qualify for traditional bank loans or venture financing when launching a business, which aligns with national data.
Nearly half of the entrepreneurs RAIN assists—many of which are pre-revenue, seed-stage companies raising their first round of outside capital—are seeking between $50,000 to $250,000 to launch or grow their ventures in Oregon. This "capital gap" is what RAIN seeks to fill by collaborating with both Republic (headquartered in New York, NY) to launch an Oregon-specific crowdfunding platform and Palo Alto Software (headquartered in Eugene, OR) to help streamline the business planning and financial forecasting and management process.
Oregon State Representative John Lively stated during a "crowdfunding 101" webinar hosted by RAIN and Republic, "I heard over and over and saw as I worked with small businesses specifically, the struggle–this "capital gap"–the inability to get access or fit traditional financing models, especially at critical times in the development of small companies. There continue to be large opportunities for job growth in rural Oregon that can really change the complexion of the economy in those places, but it really goes back to this root $50,000 or $100,000 to help the business get started and stabilize."
Rep. Lively concluded, "I want to compliment RAIN and those involved in this particular effort. Both for taking the risk and for helping to identify other ways to get capital to entrepreneurs in Oregon."
RAIN's CEO, Caroline Cummings, identified crowdfunding as a possible solution for Oregon's capital gap in 2020 and applied for a federal grant offered by the U.S. Economic Development Administration (EDA) called SPRINT (Scaling Pandemic Resilience Through Innovation and Technology).
The project that was pitched to the U.S. EDA was to enable RAIN to serve as a recovery and resiliency hub for startups and small businesses impacted by the pandemic in Oregon's Lane, Linn, Benton, and Grant counties. RAIN was awarded the competitive grant and received $748,833 from the U.S. EDA and $193,095 was provided as match dollars from several Oregon rural cities and counties who invited RAIN into their regions to help them build inclusive entrepreneurial ecosystems and economies.
[The cities and counties who have invited RAIN into their communities to help build their entrepreneurial economies are at the bottom of this release.]
Cummings stated, "We needed to find the right partners to launch an Oregon-specific crowdfunding platform that would help fill the capital gap and enable would-be entrepreneurs to make the leap into business ownership, creating jobs and stimulating Oregon's economy. After doing due diligence on several crowdfunding platforms, we selected Republic. We also knew we needed to find a platform that could help us streamline the business planning and financial forecasting and financial management process to expedite the process of handing off 'fund-ready' deals to the Republic investment and underwriting team. We selected Palo Alto Software because their LivePlan software offers an online collaboration platform to easily write a business plan, increase chances of securing funding, and give startups and small businesses the insights they need to make critical business decisions."
Sabrina Parsons, CEO of Palo Alto Software shared that they have over 1 million small business customers using their LivePlan software. Parsons added, "It's proven that when companies plan and track against their plan they grow 30% faster than those that don't."
Republic, launched in 2015, has become a leading global alternative investment platform. Through both its online platform and private placements through its network of partners, the Republic ecosystem has deployed over $700 million in investments, has supported over 600 companies, and boasts a community of over 1 million users across 100 countries. To break from traditional patterns of Venture Capital investment that cluster in a couple of main geographies, Republic works with local partners that leverage the platform as access to a capital tool for the founders they work with.
"RAIN is the first partner we are piloting this model with, and we're really excited about the relationship," said Chuck Pettid, Head of Republic Retail. "Through RAIN, Oregonian entrepreneurs will have an easier time leveraging the capital tools we offer. We provide the platform and financing model, and RAIN brings the community of founders, as well as community members seeking to back them. Oregon businesses are able to unlock an alternative financing option that was previously inaccessible – and neighbors can invest in neighbors, circulating capital within the state."
RAIN and Republic will be hosting free educational sessions over the next several months. If you're a for-profit company in Oregon seeking capital or an individual who wants to learn more about how to invest or loan your own funds through this platform, please sign up for RAIN's newsletter, reach out to the RAIN team, and register to attend our next educational webinar:
RAIN and Republic are hosting a webinar on November 9, 2021, from 1–2:30 pm PT:
Crowdfunding 101: Learn how to invest as little as $50 in Oregon startups & small businesses
Registration required: https://www.eventbrite.com/e/194051552417
About RAIN:
RAIN (Regional Accelerator & Innovation Network) is 501(c)3 non-profit organization that is run by experienced entrepreneurs and angel investors and exists to reduce barriers to entrepreneurship and innovation. Since 2015, RAIN has been invited to serve 23 cities across 5 counties in Oregon to help them build inclusive entrepreneurial ecosystems and innovation economies. Below are the current cities and counties RAIN is serving in Oregon:
CITIES: Adair Village, Brownsville, Canyon City, Coburg, Cottage Grove, Creswell, Florence, Halsey, Harrisburg, John Day, Lebanon, Lowell, Monroe, Oakridge, Philomath, Prairie City, Sweet Home, and Veneta
COUNTIES: Benton, Grant, Lane, and Linn
RAIN's Mission: to partner with communities to catalyze entrepreneurial ecosystems, connect entrepreneurs to resources (including overlooked entrepreneurs), and contribute to the creation of prosperous economies.
RAIN's Vision: communities support, value, and celebrate entrepreneurs; regional leaders recognize entrepreneurs are a primary creator of net new jobs; small and rural communities have thriving economies; and a culture of possibilities is embraced.
Visit http://www.oregonrain.org to learn more.