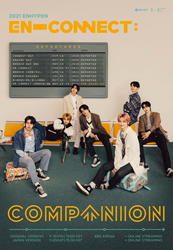 LOS ANGELES (PRWEB) November 10, 2021
VenewLive, the livestreaming platform powered by Kiswe, is hosting your new K-pop destination ENHYPEN's second fanmeet on November 19 at 7:00 p.m. KST. The boy band will also offer a special Japanese Version of the fan meet for audiences in Japan on November 20 at 3:00 p.m. KST.
'2021 ENHYPEN [EN-CONNECT : COMPANION]' will be livestreamed all over the world. The fan meet follows the group's release of their 1st Studio Album DIMENSION:DILEMMA, which topped the Oricon and Gaon Album Charts with over 900,000 copies pre-ordered and 500,000 copies sold on the first day after its release. DIMENSION: DILEMMA also debuted at No. 11 on the Billboard 200 chart and earned ENHYPEN one of the top spots on Billboard's artist charts setting new personal records for the group.
With global streaming capabilities, VenewLive offers a uniquely personalized experience for fans around the world. For this fan meet, ENHYPEN is offering an exclusive event called "ONLINE PREVIEW". ONLINE PREVIEW is a pre-performance video that offers a glimpse of ENHYPEN getting ready for the main event including a short talk, available exclusively to customers who purchase the MEMBERSHIP ONLY product. For more information on how to purchase tickets visit: Weverse App, Weverse Shop or VenewLive.
About ENHYPEN
ENHYPEN is the first boyband created by BELIFT LAB, consisting of members JUNGWON, HEESEUNG, JAY, JAKE, SUNGHOON, SUNOO, and NI-KI. Inspired by the 'hyphen(-)' that connects one word to another, ENHYPEN means that seven different boys connect to discover one another and grow together. The group has been smashing from day one since their debut on November 30, 2020 with their first mini album BORDER : DAY ONE. They have caught the attention of viewers worldwide with relatable music and energetic performances and have performed on global shows like MTV Fresh Out Live. The septet also took the "Rookie of The Year'' title at four Korean award shows within two months of their debut, proving their reputation as the breakout boyband to watch out for. Going beyond and above all expectations, they are well on the way to establishing themselves as the new K-pop destination.
About VenewLive
VenewLive is a Digital Live Performance Streaming Platform, powered by Kiswe, that delivers a unique immersive experience to global music fans, expanding viewership beyond physical venues. Our Multi-View technology enlivens the artists' performances, delivering on-stage magic and energy to fans virtually. Through our digital interactive features, the fans will feel seen and valued by the artists and enjoy a collective viewing experience with other fans.
About Kiswe
Kiswe is the interactive video company that links content owners directly with their global audiences. With its world-class Cloud Video Engine, Kiswe has delivered the world's largest digital pay-per-view events and serves the largest sports, media, and entertainment companies with its production, content distribution, and direct audience data solutions. Kiswe is leading the video 2.0 revolution with its interactive video technology, where audiences both consume and contribute to live digital content. Kiswe is headquartered in New Jersey, USA and has offices in New York, Seoul, Hasselt and Singapore. Learn more at http://www.kiswe.com.
Media Inquiries
Cassady Nordeen
Cassady@purposenorthamerica.com