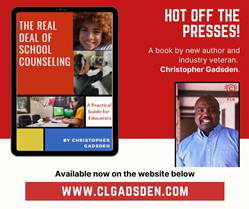 Here are early reactions to the book. "It has been eye opening to learn firsthand the work of the school counseling staff at my child's school and what they do to support the educational process". "As a fellow counselor, it was great to see a light shined this way into counseling. Its a great read."
LOS ANGELES (PRWEB) November 11, 2021
Book Baby Publishing announces the release of The Real Deal of School Counseling. Real Deal is a book for those who are studying school counseling at the university, for those who have been in profession for years.
The Real Deal of School Counseling gives a realistic overview of the current state of school counseling. As a veteran school counselor of 17 years, Gadsden felt the need to write this book to encourage those involved in counseling. Gadsden saw, after having been a site coordinator for 30+ school counseling interns, that the interns come to the school site with an excellent grasp on theory and come with great hope to provide student support, generate insightful initiatives, lead small groups, and fully connect to students. Then when they truly saw what actually happened at school sites and districts throughout the K-12 system, many were not ready for the emotional toll that must be paid. They were discouraged when they discovered how much time it takes to work with each student, how much time the huge caseloads take, they realize that there is not enough time in the work day to get it all done.
The Real Deal is available at available in the following formats: hardback, softback and digital ebook format.
All book formats may be ordered on http://www.CLGADSDEN.COM