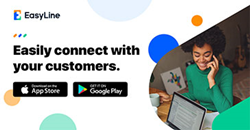 "EasyLine aims to help small business owners unlock the next level of growth amid this Black Friday and Christmas rush. We stand firm with small businesses to help them grow and achieve the ultimate goals."
SAN JOSE, Calif. (PRWEB) November 16, 2021
EasyLine's mobile application launched worldwide, providing small business owners with a simple platform for managing business calls, texts and voicemails. The new app gives users a dedicated business phone number, letting them easily separate work and personal calls on the same mobile device, in addition to several other small business-centric features.
The holiday season is an especially stressful time for small business owners who often do not have the manpower to handle communication and marketing on their own in addition to handling daily operations and sales. Consolidating communications onto one manageable platform helps owners to optimize their holiday season strategies and boost sales.
"We believe easy tools make for good work," said EasyLine Product Manager Benson Guo. "EasyLine aims to help small business owners unlock the next level of growth amid this Black Friday and Christmas rush. We stand firm with small businesses to help them grow and achieve the ultimate goals."
Streamlined marketing
With more people at home and conducting business online more than ever, the COVID-19 pandemic has put a spotlight on the importance of digital marketing. Businesses can no longer rely on organic growth or word-of-mouth referrals, especially when customers are trying to be conservative with their spending.
EasyLine's SMS Marketing is designed for broadcasting promotions, offers and announcements to your customer base at programmed dates and times. SMS marketing can help small business owners to personally reach potential customers and differentiate themselves from the rest of the market.
Easy-reply snippets also allow business owners to respond to customers' FAQs with prewritten responses, minimizing the time between customers finding your product and closing on a purchase. This makes for a positive customer experience and promotes repeat customers to your brand.
Simplified communication
EasyLine's useful features make it easy for business owners to communicate with customers. The auto-attendant feature is a cost-effective solution for 24/7 call management that automatically routes customers to the right number or voicemail by dial key.
The business hours feature is key for small business owners who handle operations on their own or with a very limited team. Easily split your days into business and after hours, automating when calls come through and when they are sent directly to a custom recorded voicemail. Similarly, turn on auto-reply during times where you are away from the phone to ensure that customers receive a reply and you don't miss an opportunity. Business contacts under this second phone number are also separate from the rest of the contacts on your phone, making it easy to have two distinct functions on the same mobile phone.
Custom called ID distinguishes when a business call is incoming, and carrier-level reliability ensures that calls are always clear and high-quality.
To learn more about EasyLine, visit the website here or download the app on the App Store or Google Play Store.
About EasyLine
EasyLine makes it easier for small business owners to reach customers. The affordable business phone service allows users to have two separate phone numbers on one mobile phone and is scalable as your business grows. The app's top-tier business features empower small businesses to grow and expand, with the ease of managing all business communications from one platform.