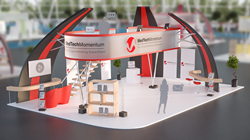 "It's a new B2B tool specifically built to help companies in the Ortho industry connect digitally and solve problems together."
ALTAMONTE SPRINGS, Fla. (PRWEB) November 10, 2021
http://www.orthodigitalsymposium.com - As the world's first of its kind business-to-business digital symposium in Orthopedics, ODS is harnessing the momentum of past successes with virtual conventions, to launch a new interactive forum designed to help stakeholders in Orthopedics better execute innovative growth and product development strategies in the new reality.
In the past decade, many believed that the global supply chains and communication channels in the MedTech space were agile and digitally connected. The reality is that the Orthopedic industry has been lacking vital B2B digital connectivity, to ensure scalable and sustainable growth in quickly changing market conditions. The Orthopedic Digital Symposium is solving this problem for:

Contract Manufacturers
Medical Device Companies (OEMs) & Inventors
Consultants: Regulatory Affairs, QMS, Product Development, IP, Sales & Marketing
Investment Banks & Investors
Distributors & Agents
"ODS is not meant to replace brick and mortar orthopedic conferences, such as the American Academy of Orthopedic Surgeons or OMTEC," says Guillaume Viallaneix, ODS Co-Founder and MedTech Momentum President; "It's a new B2B tool specifically built to help companies in the Ortho industry connect digitally and solve problems together, to everyone's benefit. It's about giving organizations the opportunity to network in a single forum, identify partnership opportunities, promote their products or services, increase visibility, unveil innovations, surveil the market and find investors."
Growth Intelligence shows that hundreds of thousands of businesses around the world have turned to digital solutions during the pandemic to survive and thrive. The business model is working in all industries and is here to stay. It only makes sense for B2B stakeholders in Orthopedics to also benefit from the digital revolution.
As Vivien Poujade, ODS Co-Founder and SYNTHES'3D President, states, "The ODS technology platform is powered by the company's talented team of software engineers & CG artists. Our goal is to immerse exhibitors and visitors in an interactive virtual environment that easily connects decision-makers in Orthopedics. It is driven by data and focused on solutions in a way that is both productive and entertaining."
Registration for the February 2-4th, 2022 symposium is now open. Attendees can register for free by clicking here; Exhibitors by clicking here. Spots are limited to only 80 exhibitor spaces for this event.
About ODS The Ortho Digital Symposium (ODS) is produced by MedTech Digital Symposiums, LLC. (MDS), a joint venture between MedTech Momentum, Inc. in the United States, and SYNTHES'3D, SAS. in Europe (France). Created in 2021, MedTech Digital Symposiums leverages the founders decades of MedTech industry experience, virtual networks expertise, and global reach, to address the unmet digital connectivity needs in the MedTech space. ODS is the first symposium to be launched; others are in the works in other specialties.