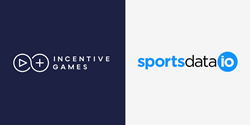 "By offering core data at the play-by-play level, combined with their robust US odds feed, SportsDataIO allows us to create new and unique game types that will allow us to compete and differentiate ourselves in the ever-growing US iGaming space." John Gordon, CEO Incentive Games
CONSHOHOCKEN, Pa. (PRWEB) November 10, 2021
SportsDataIO, a leading provider of Sports, Odds and Fantasy data that power applications across a wide range of industries, recently signed to be the preferred provider of Statistical and Odds data to Incentive Games, a leading iGaming solutions provider.
"We're beyond excited to partner with SportsDataIO," said John Gordon, CEO & Co-Founder of Incentive Games. Gordon continued "SportsDataIO's incredibly granular and accurate data is the ideal fit for our products. By offering core data at the play-by-play level, combined with their robust US odds feed, SportsDataIO allows us to create new and unique game types that will allow us to compete and differentiate ourselves in the ever-growing US iGaming space. Having thoroughly explored the data marketplace we found SportsDataIO to be best positioned to help us now and well into the future.
Dustin Sullivan, President of SportsDataIO added, "We're proud to bring Incentive Games into our portfolio of clients. Their innovative game designs, worldwide clientele, and years of experience in other global markets gives us a great deal of excitement for what this partnership will bring to the US affiliate market."
Exceeding 2.1 billion USD in revenue in 2020, the total of the US iGaming space is expected to see a nearly 18% compound annual growth rate through 2026. iGaming, which is firmly entrenched in the European and Asian markets, is projected to be one of the largest growth sectors in the United States in the 2020s.
SportsDataIO remains committed to providing the most accurate, timely, and usable data across Gaming and other digital sports markets. Along with their award-winning API service, SportsDataIO has recently expanded to offer out-of-the-box widgets and other products to help meet the demands of this growing space.
Entering our 15th year in business, SportsDataIO has become the data provider of choice for startups, legacy organizations, and everyone in-between. With our scalable, well-documented and industry-disrupting API SportsDataIO continues to innovate in a space that has been dominated by large, slow to adapt players.