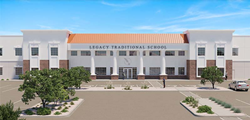 "This is an inspiring time for the growth and transformation of Legacy - Texas," said Board President Patrick Britton. "This initiative will make Legacy more competitive and ensure future generations of Wolfpack families receive life-changing academic and student experiences."
SAN ANTONIO (PRWEB) November 10, 2021
Legacy Traditional Schools, a network of public, tuition-free charter schools in Texas, Arizona, and Nevada, announced it has opened the interest list for its new Cibolo, Texas campus.
The new 87,000 square-foot campus, to be located northeast of downtown San Antonio, is Legacy's fourth campus in the Greater San Antonio area. The expansion and transformation of the network's Texas schools come at a time of increasing challenges and opportunity among San Antonio public schools and noted parent demand for high-achieving schools.
Legacy announced a major rebranding and school improvement effort after renaming The School of Excellence in Education to Legacy Traditional Schools - Texas, in early August 2021. Two phases of renovation are in progress at Kelley Elementary (Pre-K-6), Walker Elementary (Pre-K-6), Saenz Junior High (7-8), and Lee Academy (9-12). Phase I facility improvement addressed the updating of electrical, mechanical, exterior, structural, and safety requirements of the schools and is nearly complete. An additional $5.4 million was recently approved by the school board with improvements beginning in the coming months.
"This is an inspiring time for the growth and transformation of Legacy - Texas," said Board President Patrick Britton. "This initiative will make Legacy more competitive and ensure future generations of Wolfpack families receive life-changing academic and student experiences."
At every Legacy school, students receive a tuition-free, rigorous, and well-rounded education that emphasizes all areas of academic study, including the arts, physical education and extensive athletics and extracurricular activities.
"We are excited to meet the growing demand for high-quality school options in Cibolo and the Greater San Antonio area, as well as continue our exciting renovations and curriculum enhancements at our current schools," said Britton. "We have received such positive parent and community response already and we can't wait to help advance school choice in San Antonio!"
The Cibolo campus will enroll up to 1,410 students and offer tuition-free Pre-K through 8th-grade. When completed, the campus will consist of 47 classrooms, offices, a gym, athletic fields, a library, a piano lab, an indoor basketball court and artificial turf field, a commercial kitchen, and a cafeteria. The school will offer:

Tuition-free Pre-K through 8th-Grade
Well-rounded education
State-of-the-art facilities
Before- and after-school programs
Free breakfast and lunch
Sports and music curriculum tracks
Competitive after-school sports
Free transportation
To join the interest list, take a virtual tour, or learn more about Legacy - Cibolo, visit legacytraditional.org/cibolo.
Legacy Traditional School – Cibolo (Opens fall 2022)
Cibolo, TX 78108
mailto:cibolo-info@legacytraditional.org [cibolo-info@legacytraditional.org __title__ null]
Kelley Elementary
802 Oblate Dr.
San Antonio, TX 78216
Phone: 210.431.9881
Fax: 210.253.2198
Walker Elementary
6500 IH-35 North
San Antonio, TX 78218
Phone: 210.654.4411
Fax: 210.590.0376
Saenz Junior High
1826 Basse Rd.
San Antonio, TX 78213
Phone: 210.431.9881
Fax: 210.582.2547
Milton B. Lee Academy of Science and Engineering (9-12)
1826 Basse Rd.
San Antonio, TX 78213
Phone: 210.431.9881
Fax: 210.582.2547
###
About Legacy Traditional Schools (LTS)
Legacy Traditional Schools believes there is no limit to what a student can achieve with a great education. Our non-profit network of tuition-free, A-rated public charter schools was founded on this principle, and it underlies our mission to educate lifelong learners and develop engaged citizens. Every Legacy Traditional School features a rigorous, well-rounded curriculum that emphasizes all areas of academic study, including the arts, physical education, and extensive athletics and extracurricular activities. In 2021-2022, we are educating more than 25,000 students across 28 campuses in Arizona (Greater Phoenix, northwest Tucson, Maricopa and Casa Grande), Nevada (North Las Vegas, Southwest Las Vegas and Henderson), and Texas (Greater San Antonio). Learn more at http://www.legacytraditional.org.