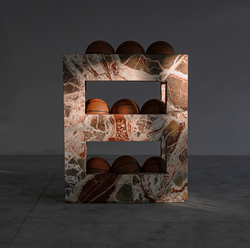 "I love my basketball rack. I find it incredible that it's made from one piece of marble, and it has such a light airy quality to it when you look at it, but it actually weighs a ton. It's a work of art, it's a sculpture! I love using it when I shoot hoops at the studio." - Jonas Wood
LOS ANGELES (PRWEB) November 10, 2021
Reimagining old-world craftsmanship paired with modern sports, the collective will present the first major solo exhibition of works in marble.
This show will bring together six exclusive pieces of work spanning across two years of R&D and production. This exhibition maps out the artistic fascination with Renaissance-period stone marble work and modern sports. Essentially Jon and Doron are putting a contemporary twist on classic traditional marble sculpture. The emphasis of this work is on functionality and real-world usability. "We want you to use these things," says Jon Buscemi.
Jon and Doron had an opportunity to sample the first piece of work and gifted it to artist and avid basketball fan Jonas Wood. He houses his basketball rack at his Los Angeles studio parking lot adjacent to this basketball court.
"I love my basketball rack. I find it incredible that it's made from one piece of marble, and it has such a light airy quality to it when you look at it, but it actually weighs a ton. It's a work of art, it's a sculpture! I love using it when I shoot hoops at the studio." - Jonas Wood
Jon and Doron both have a long history in producing bespoke items from fashion to furniture. This is a true collaboration of two craftsmen coming together with a singular vision and aesthetic.
"Even before cave paintings, humans made shapes from stone. From these beginnings, artifacts have evolved. The collaboration between Jon Buscemi and Doron Silverman celebrates the classic history of marble heroic sculptures into more modern functional contemporary creations." - Darren Romanelli
These works will be on view exclusively at the Double Extra Gallery in Downtown Los Angeles at 648 N. Spring St from Nov 5 – Dec 5, 2021.
About Jon Buscemi:
Jon Buscemi is an Italian American fashion designer, creative director, and founder of eponymous brand Buscemi.
Born in 1975 in Long Island, New York, Buscemi first began working life with a short stint as an investment banker. During his stint and for a decade before, Buscemi began to collect sneakers, and through industry connections he was able to move into the fashion industry. He worked on special projects for DC Shoes, and became the creative director of Lotto, an Italian tennis and soccer brand before moving onto eyewear brand Oliver Peoples as a brand director. In 2007, Buscemi launched his first brand GOURMET, a brand based on nostalgic Italian design and timeless pieces. He left GOURMET in 2012 to launch his eponymous brand Buscemi. In 2018 Jon met Doron Silverman and started working on his other passion of marble, stonework, and functional sculpture.
About Doron Silverman:
Doron Silverman is a Los Angeles-based furniture designer and manufacturer, CEO of Bespoke Furniture Inc., which produces furniture at the highest end for a variety of different projects and collections in the luxury market. Silverman works alongside some of the most notable designers and award-winning hotels in the world.
Silverman initially began his career in luxury design when he took over a family business eighteen years ago. He created a lab for model rooms in Los Angeles and outsourced production overseas, bridging a market of business in hospitality and design that was underutilized in the furniture market and allowing him to create beautiful custom pieces for a global network. Over the years, Silverman had designed pieces for some of the top hotels and restaurants globally, including the Bel Air Hotel, Beverly Hills Hotel, The Faena Hotel, SoHo House, MGM Resorts, SLS Hotel Los Angeles, W Hotels, Nobu Restaurants Worldwide and Four Seasons Hotels, to name a few. He has also worked with cutting-edge fashion and interior designers such as Philippe Starck, Tom Ford, James Perse, Rockwell Group, Catherine Martin, Kelly Wearstler, among many others.
Silverman enjoys giving engineering and structural input on his pieces and understands the importance of paying attention to detail when crafting his designs. He insists on remaining innovative with his work while having a unique point of view, from concept to inception.
Each of Silverman's projects are linked by his passion and commitment to creativity while consistently delivering the highest level of luxury.