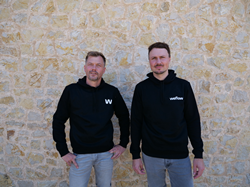 "We learned that Salesforce is a great system of record, but it's not productive for daily use. To keep it updated, a more intuitive workspace — and experience — is needed to fully utilise Salesforce's capabilities."
BERLIN (PRWEB) November 12, 2021
Weflow, the Salesforce productivity platform for revenue teams, today announced that it has raised $2.7M in pre-seed funding. The round was led by Cherry Ventures and joined by a group of renowned angel investors such as Christian Reber (Pitch and Wunderlist), Sascha Konietzke and Chris Schagen (Contentful), Alexander Ljung and Eric Quidenus-Wahlforss (Soundcloud and Dance), and Andreas Bodczek (Fyber and IDnow).
83% of Fortune 500 companies use Salesforce today to improve their sales team's productivity. Yet sales professionals only spend 1/4th of their day *actually* selling (rest goes into general admin and paperwork).
Weflow was founded by serial entrepreneurs Henrik Basten and Janis Zech with the mission to build the fastest way to update Salesforce. The platform reduces busy work and returns important "selling time" to sales teams by helping them add information inside Salesforce records fast. The platform additionally ensures timely, complete and accurate Salesforce data for RevOps, and improves pipeline visibility for Sales Leadership.
In the last couple of months, Basten and Zech have hired a world class remote team, and built and validated the product. Now, Weflow has a long pipeline of interested customers ramping on to the product. Bastian and Zech will use the funding round to further invest into marketing and building the product beyond product-market fit.
Prior to founding Weflow, Basten and Zech worked together at Fyber, a company Zech founded and which acquired Basten's company Falk Realtime. Zech and Basten wanted to cure their "Salesforce fatigue," a problem they experienced first-hand running revenue teams for over a decade.
"Despite having a world-class revenue team, we didn't have reliable data hygiene inside Salesforce. That made our forecasts inaccurate, pipeline reviews uncomfortable and "update Salesforce" conversations frequent. Instead of having a sales culture that was about open conversations, ideas being exchanged and levelling up,​​ missing Salesforce data and bureaucratic processes created a culture of mistrust between sales teams and leadership," said Zech, who serves as CEO.
Basten, who serves as the CTO, adds, "We learned that Salesforce is a great system of record, but it's not productive for daily use. To keep it updated, a more intuitive workspace — and experience — is needed to fully utilise Salesforce's capabilities."
"Weflow's Revenue Workspace is not just levelling up the productivity of sales professionals, it's also improving Salesforce data hygiene and enabling predictable revenue growth in organizations," says Filip Dames, partner at Cherry Ventures. "Janis, Henrik, and their team are ahead of the curve in creating a platform that both acknowledges a clear trend and paves the way for innovative solutions."
Weflow's vision is to make revenue teams successful by creating great experiences and unlocking productivity. "We want revenue teams to win together as a team by empowering every individual. While we won't solve all problems overnight, I think we're on the right path and see endless possibilities," concludes Janis.
Weflow is currently open for early access. For more information or to book a demo, visit the company's website.