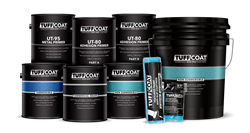 HICKORY, N.C. (PRWEB) November 11, 2021
Tuff Coat™ is an attractive, easy-to-use, water-based, rubberized non-skid coating that provides optimal traction for pool decks, splash pads, locker rooms, commercial/industrial applications and much more.
Tuff Coat is the perfect solution where safety and aesthetics are a major priority. Tuff Coat has made significant investments over the last 6 months to improve its technology, branding, product offering and support materials.
Starting November 1st, 2021, Tuff Coat will showcase a new branding package that includes a new logo, labels, updated literature, expanded product offering and redesigned website. Tuff Coat remains committed to providing its customers superior products along with an unparalleled customer support experience.
Tuff Coat's new branding is fresh, clean, and modern, better reflecting how the company is positioned today. While Tuff Coat remains dedicated to serving our commercial customers, the new branding package is geared to appeal to the DIY community as well. Tuff Coat features high quality coatings that are durable, easy to use, and look beautiful.
Tuff Coat will continue to expand its product offering and offers all topcoat products in custom colors for orders of 50 gallons or more.
"We remain committed to the thousands of existing Tuff Coat customers that have come to know and love the product over the past 20 years. The addition of Tuff Coat to MRT's portfolio of strong brands allows us to provide full service solutions to our waterpark, pool, and splash pad customers. We believe in the Tuff Coat brand and are excited to grow the brand in a variety of market segments." - Scott Townsend – MRT President.
The refreshed Tuff Coat website http://www.tuffcoat.net is the quickest resource for product data sheets, application guides, social media links, literature, color cards and pack shots.