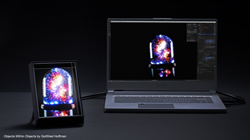 "It's important for folks to know that we're not just developing hardware. We're making an entire holographic platform, including a new lineup of holographic software."
BROOKLYN, N.Y. (PRWEB) November 11, 2021
Today, Looking Glass Factory announced the release of a suite of new upgrades to the company's hologram design software. The upgrades will aid in the creation of 3D holographic images for the company's line-up of holographic interfaces. The software suite includes an enhanced version of HoloPlay Studio, advanced plugins for Unreal Engine and Unity, and an add-on for Blender. All of the software, which can be downloaded from the company's software page, is part of Looking Glass Factory's continued effort to make it ever simpler and more wondrous to design, experience, and share holograms as individuals or organizations.
"It's important for folks to know that we're not just developing hardware," said Shawn Frayne, CEO of Looking Glass Factory. "We're making an entire holographic platform, including a new lineup of holographic software to make it vastly easier to design and share the magic of holograms. With these new upgrades to our most popular plugins and holographic editing applications, everyone from the 3D enthusiast to professional engineers and researchers can more simply bring their 3D creations and work into the real world than ever before. The widespread holographic future, where everyone is creating and communicating holographically, is closer than most people think. Our hope is that these new tools accelerate us toward that future even faster."
Simplify Hologram Design with HoloPlay Studio
Compatible with macOS, Windows and Android, HoloPlay Studio is the central hologram publishing hub for Looking Glass Factory's hardware. Originally designed to support Looking Glass Portrait, HoloPlay Studio has been upgraded to support all of Looking Glass' holographic interfaces and to make it easier for users of Unity, Unreal, and Blender to create holograms. A new import-export function makes importing content from their 3D program of choice (and even iPhones) into a one-click process. Users can now also share their holograms with others using the one-click export function.
Leverage the power of Blender, Unity or Unreal to Design Holograms and Holographic Animations
3D artists and animators create 3D images that are currently trapped on 2D screens and they rarely have the opportunity to visualize that content the way it was supposed to be viewed: in actual 3D in the real world. Whether a creator is trying to create the world's first holographic still life or render out a holographic animated short, the upgraded add-ons for Blender, Unity and Unreal make the process simple. Creators set up lights, cameras, and assets in their application of choice and then share hologram exports in a format that is compatible with all Looking Glass systems, past and present.
Create Holograms for Work or Play
Through the Looking Glass Portrait - the world's first personal holographic interface - 3D art, design, and even memories shot with your phone can come to life in extremely realistic and magical ways never experienced before. Even better, the recently launched larger format 4K and 8K Gen2 Looking Glass systems provide groundbreaking ways to put holograms to work within a variety of industries, including product design and engineering, medical and scientific visualization, and R&D. To find out more, visit the Looking Glass Solutions page.
About Looking Glass Factory
Looking Glass Factory Inc, with headquarters in Greenpoint, Brooklyn and additional operations in Hong Kong, is the global leader in the field of holographic light field interfaces that work without a VR or AR headset. Their advanced holographic hardware and software is based on the company's patented light field technology, providing an unparalleled way in which to interact with holograms throughout the fields of 3D creation, both for individual 3D creators and businesses working with 3D -- and soon with all of the cross-platform holographic content living in the emerging metaverse. In 2019, Looking Glass interfaces became the most widely adopted holographic displays in history, positioning them to deliver on the long-awaited promise of holograms. For more information, visit http://www.lookingglassfactory.com/.
For press inquiries: press@lookingglassfactory.com
For all business development inquiries: sales@lookingglassfactory.com