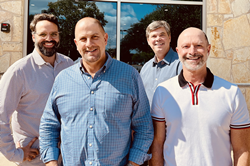 "Statistical Vision's, now Hahn Stats', analytical and data visualization capabilities allow us to harness massive data sets and create trend models to better equip our clients with state-of-the-art guidance, enabling them to make marketing investment decisions with great confidence."
AUSTIN, Texas (PRWEB) November 12, 2021
Austin-based marketing and communications firm Hahn Public has acquired Statistical Vision, a Houston-based data science and analytics firm to support clients with predictive business forecasting tools. The acquisition expands Hahn Public to a 48-person agency with combined revenues of more than $10 million annually.
"Our food and energy clients continue to face a rapidly changing and uncertain landscape," said Jeff Hahn, principal of Hahn Public. "Statistical Vision's, now Hahn Stats', analytical and data visualization capabilities allow us to harness massive data sets and create trend models to better equip our clients with state-of-the-art guidance, enabling them to make marketing investment decisions with great confidence."
"Our clients come to us drowning in data – sales transactions, marketing information, commodity prices, import and export data, demographics, weather forecasts, etcetera," said Michael Griebe, co-founder of Statistical Vision. "We build predictive analytic models to answer specific questions and to point our clients towards revenue growth. Questions like 'how much of a boost to sales do we expect to get if we work harder to reach a precision-defined audience?' 'How many staff members would we need to keep power outages under eight hours next year?' or 'How many extra appliances does this rebate program really sell?"
Hahn Public's food clients include Whataburger, Texas Department of Agriculture, Beef-Loving Texans, H-E-B's Central Market and Vital Farms. The agency's energy sector clients include the Propane Education and Research Council, OneGas, GPA Midstream, and a concentration of essential service providers including ZTERS, CORE Electric Cooperative, Brownsville Public Utilities, Lubbock Power and Light, East Texas Electric Cooperative and the Northeast Texas Regional Mobility Authority.
ABOUT HAHN PUBLIC
Through an array of marketing and communication services, Hahn promotes and protects brands that provide the essentials of daily life. Hahn traces its roots back to 1974 with the founding of Bonner, Inc., which later became TateAustin. Jeff Hahn acquired TateAustin in 2007. Company staff are located in San Antonio, Houston, Fort Worth and Denver, Colorado. The home office is the historic Weaver Homestead at 5203 Brodie Lane in Austin.