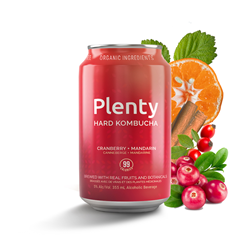 Plenty Hard Kombucha only launched in May of 2021 and has already become one of the top earning Canadian hard kombucha brands of this year
VANCOUVER, British Columbia (PRWEB) November 16, 2021
Just in time for the holidays, Plenty Hard Kombucha releases a zesty new flavour that showcases the festive fruits of the season. Vibrant and well-balanced, Cranberry + Mandarin is an exciting fresh take on a classic winter pairing. With juicy real fruits, botanicals and the hint of cinnamon that warms even the frostiest of hearts, this effervescent delight will keep you feeling merry right into the new year.
Plenty Hard Kombucha only launched in May of 2021 and has already become one of the top earning Canadian hard kombucha brands of this year. Helmed by founder Valli Manickam and co-founder Jamie Kirwin, Plenty is one of the first female-founded, handcrafted hard kombucha companies in Canada. Their flagship beverages, Grapefruit + Hibiscus and Mango + Pineapple + Coconut have been sold at a rate of up to 2,500 units per month.
Plenty Hard Kombucha Founder, Valli Manickam:
"When I launched Plenty, it was because I wanted to provide Canadians with a better-for-you alcohol option that doesn't compromise on taste. After seeing rapid sales growth this year it's given me the confidence that my initial gut instincts were correct. Canada is full of health-conscious consumers who, just like me, desire an alcohol beverage that can be enjoyed guilt-free. I'm excited to take this company further in 2022 with expansion plans and new flavours to enjoy." - Valli Manickam, CEO and Founder, Plenty Hard Kombucha
Key Features:
Made with all organic green tea, fruits, and botanicals, Plenty Hard Kombucha is lower in sugar, carbs, and calories than your traditional happy hour options. There's no added spirits either – Plenty Hard Kombucha reaches it's 5% ABV through an all natural process of double fermentation.
Key Features of Plenty Hard Kombucha include:

99 Calories
1g Sugar
1g Carb
Organic Ingredients
Real Fruit and Botanicals
Ingredients High in Antioxidants
Vegan
Gluten-Free
No Spirits Added, Plenty is naturally brewed to 5% alcohol
Plenty Hard Kombucha is available in select liquor stores and restaurants across British Columbia and emerging into Alberta, Canada. Suggested price for a 355 ml 4-pack is $14.99 CDN. For more information on up-to-date locations and new flavours, please visit http://www.plentyhardkombucha.com or [at]plentyhardkombucha on Facebook or Instagram.
About Plenty Hard Kombucha:
The first female-founded and operated hard kombucha company in Vancouver, BC, Plenty Hard Kombucha is made for those who want a better-for-you alcohol brew and won't compromise on quality nor taste.
Media Contact:
Erica Timmerman picnic social strategies
604-671-4892
erica[at]picnicsocial.ca