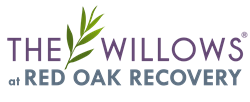 "It has been extremely gratifying to be a part of and watch the remarkable work being done at The Willows," says Jack Kline, MS, LCMHCS, LCAS, CCS, CTT-2, MAC, President and Founder.
ASHEVILLE, N.C. (PRWEB) November 11, 2021
The Willows at Red Oak Recovery®, a trauma focused substance use and mental health treatment program for young women, ages 18 – 35, is delighted to announce that October 2021 marked their five-year anniversary of being located on their beautiful gender-specific campus!
The Willows at Red Oak Recovery® calls their beautiful 38-acre horse farm just outside of Asheville, NC home. The Willows is comprised of a mission-driven team of talented clinicians, leaders, and substance use treatment professionals. Their mission – Rebuilding lives, restoring hope, and inspiring recovery for individuals and families – is at the core of who they are.
Since the beginning, The Willows at Red Oak Recovery® has worked with over 400 young people and their families. This number is even more meaningful considering the intentionally small size of The Willows' program. By having a small program, The Willows' offers clients the safety and space to truly focus on themselves and work on the sensitive or difficult topics they may have been avoiding, such as traumatic events in their past.
At The Willows, clients work closely with Master's level, dually licensed (mental health and clinical addictions) clinicians and receive a minimum of 30 hours of individualized clinical care each week. This, in addition to complimentary modalities and approaches, has created a healing environment that is rich with connection and community.
"It has been extremely gratifying to be a part of and watch the remarkable work being done at The Willows," says Jack Kline, MS, LCMHCS, LCAS, CCS, CTT-2, MAC, President and Founder. "The Willows continues to enhance its clinical sophistication to meet the increasing complexity of its clients in a most challenging and stressful time. It is a program that is run for women, by women, and gives women the space and safety of a single gender campus to allow for remarkable healing to take place."