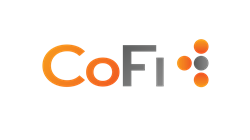 "We've been using CoFi for several months and are extremely pleased with its ease of use and how it has reduced the administrative burden for our practice. We also appreciate the confidence of knowing the fees are being handled compliantly." Dustin McKnight, M.D., Hunkeler Eye Institute
BOSTON (PRWEB) November 12, 2021
CoFi, Inc., provider of a multi-party payments platform for elective medical procedures, today announced the wide-spread and growing adoption of its co-management payment solution for ophthalmology procedures.
Over 300 practices now use CoFi. This rapid adoption reflects the value derived from CoFi's platform, which provides solutions long sought by ophthalmology and optometry practices.
Throughout ophthalmology, there is increasing awareness of allegations of non-compliance with the federal Anti-Kickback Statute when surgical practices co-manage with optometry practices, including the practice of collecting fees on behalf of optometrists, and essentially paying the optometrists like contractors.
With CoFi, each party involved in a procedure (e.g., ophthalmologist, optometrist, ambulatory surgery center) collects directly from the patient, through a single, convenient, and compliant payment event at the surgeon's office.
"Payment separation – ensuring patients pay each provider directly for their services – avoids the potential for allegations of non-compliance when collecting fees for surgical procedures," said Alan Reider of LSR Consulting, formerly at Arnold & Porter and a consultant to CoFi. "CoFi's design addresses a key payment-related compliance risk around co-management in connection with the implantation of a premium IOL, as well as cash-pay refractive procedures, like LASIK and Refractive Lens Exchange."
Today, the most common methods for facilitating payment separation are suboptimal. For example, ophthalmologists and optometrists report a significant administrative burden when the surgical practice calls the patient's credit card over to the optometrist's office, or collects two separate checks from the patient. Similarly, patients and optometrists express frustration around the payment and collection of co-management fees at the post-operative visit.
In addition to addressing compliance via payment separation, CoFi offers:

Incredible ease of use – creating a multi-party invoice and processing the patient payment is easier than booking a hotel room online.
Enhanced patient satisfaction – CoFi eliminates having to pay different parties at different points in time, something every healthcare consumer considers a nuisance and frustration.
Better partnerships – co-managing optometrists highly value the unprecedented visibility they get into the status of their patients and payments.
CoFi's multi-party platform also can include payments to surgical facilities (ASCs, hospitals) and other providers (such as anesthesiologists).
"Refractive cataract surgery is a premium, life-changing procedure that deserves a premium payment experience," said Tal Raviv, M.D., of Eye Center of New York in Manhattan and Chief Medical Officer for CoFi. "In the past, asking my patients to make three or four separate payments — at different times and locations — created confusion and frustration. With CoFi, my patients can essentially 'swipe once' and directly pay the facility, the co-managing optometrist, and surgeon with transparency and ease."
"We've been using CoFi for several months now and are extremely pleased with its ease of use and how it has reduced the administrative burden for our practice. We also appreciate the confidence of knowing the fees are being handled compliantly," said Dustin McKnight, M.D., ophthalmologist at Hunkeler Eye Institute in Overland Park, KS. "All of our co-managing optometrists are on CoFi and are grateful we've adopted this product."
About CoFi CoFi, Inc. provides an innovative, multi-party payment platform for elective medical procedures. Using CoFi, each party collects directly from the patient, through a single, convenient payment event at the surgeon's office. Our software enables providers and surgical facilities to offer a premium payment experience to their premium patients. CoFi has seen growing market adoption in ophthalmology, where the platform delivers critical payment compliance and work-flow advantages to surgeons, co-managing optometrists, and ambulatory surgery centers for premium cataract and LASIK procedures. Learn more at http://www.cofimd.com.