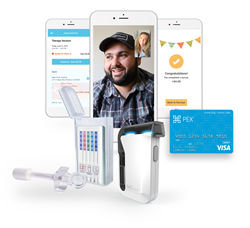 After 50 years of research, it's about time that addiction treatment catches up with modern medicine and adopts objective behavioral health 'vital signs' to guide treatment planning
BOSTON (PRWEB) November 16, 2021
DynamiCare Health, a digital health company for substance use disorder, has been awarded a Fast-Track Small Business Innovation Research (SBIR) Grant from the National Institute of Drug Abuse (NIDA), part of the U.S. National Institutes of Health (NIH). DynamiCare will receive up to a total of approximately $2 million over the course of three years if project milestones are met. The grant will support a large-scale randomized controlled trial to test the effectiveness of incentivizing addiction treatment providers to adopt underutilized evidence-based practices.
DynamiCare has developed a digital therapeutic that automates contingency management, an evidence-based intervention for enhancing motivation in early recovery from substance use disorders. Contingency management provides small, frequent rewards for staying sober and engaging in treatment. Despite over 100 randomized controlled trials showing effectiveness, contingency management is rarely used by addiction treatment providers. A recent JAMA paper found that "contingency management may generate significant societal cost savings and, more importantly, save numerous lives." With the State of California making a major push for this new approach, and the Biden administration's drug czar's office listing the methodology as a Year 1 Drug Policy Priority, the time is right for this low-effort, high-rigor technology to promote dissemination and provider adoption.
One barrier to adoption has been the lack of a billing pathway for providers to be reimbursed for delivering this service. This research study will test financially incentivizing addiction treatment specialists to integrate DynamiCare's contingency management program into their practice and collaborate on care. DynamiCare's digital therapeutic has already demonstrated doubling-to-tripling of quit rates in 3 clinical trials. In this study, buprenorphine prescribers will be incentivized to review their patients' behavioral performance data. Both measurement-based care and contingency management have been proven to boost outcomes. If this incentivized collaborative care study is successful, it could lead to new billing codes and widespread integration of contingency management into routine care.
"After 50 years of research, it's about time that addiction treatment catches up with modern medicine and adopts objective behavioral health 'vital signs' to guide treatment planning," said David R. Gastfriend M.D., DFASAM, Chief Medical Officer of DynamiCare Health, and Co-Principal Investigator on the study. "A simple referral and quick data review at each visit is all it takes. Now that technology makes treatment-by-data easy, we hope physicians and other buprenorphine prescribers will join us in studying how best to achieve practice change."
DynamiCare Health is partnering with Western Michigan University and RTI International, a nonprofit research institute, to conduct the research. Anthony DeFulio PhD, Associate Professor of Psychology at Western Michigan University, will serve as Co-Principal Investigator on the study.
---
RTI International is an independent, nonprofit research institute dedicated to improving the human condition. Clients rely on us to answer questions that demand an objective and multidisciplinary approach — one that integrates expertise across the social and laboratory sciences, engineering and international development. We believe in the promise of science, and we are inspired every day to deliver on that promise for the good of people, communities and businesses around the world. For more information, visit http://www.rti.org.
Western Michigan University prepares students from around the globe for a life well lived by helping them to pursue, thrive and prosper so they can make a meaningful impact on society. The University offers 249 academic programs to more than 19,000 students pursuing degrees through the doctoral level. For more information, visit wmich.edu.
DynamiCare Health is a digital care program that uses accountability and motivation to help people overcome addiction. Results from 3 clinical studies have shown DynamiCare to increase quit rates for opioids, alcohol, and tobacco by 2-3x compared to typical treatment. DynamiCare enables people to complete virtual substance tests through its app anytime, anywhere, through connected breath and saliva tests verified by selfie video. Members earn monetary rewards for staying sober, attending treatment (verified by GPS), and completing self-guided in-app therapy modules. DynamiCare matches members with a certified Recovery Coach who helps them stay accountable to their goals.
DynamiCare's innovative work has been recognized through numerous grants and awards, including 4 NIH grants and the $1M Ohio Opioid Technology Challenge. Their work has been featured in various news outlets, including the NY Times, WSJ, and CBS News. DynamiCare Health was founded in 2016 by Eric Gastfriend, Harvard MBA tech executive, and his father, David R. Gastfriend MD, an international expert in addiction medicine.
NOTE: Research reported is supported by the National Institute on Drug Abuse of the National Institutes of Health under Award Number R44DA055396. The content is solely the responsibility of the authors and does not necessarily represent the official views of the National Institutes of Health.