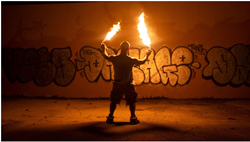 "It has always been a dream to be able to deliver a story that can inspire and inform a global audience, a story that has many lessons for the young and old alike." - Tony Gonzalez CEO, TGI
MIAMI (PRWEB) November 22, 2021
Tire Group International, world's leading supplier of premium-quality sports, passenger, off-road, light truck, truck, industrial and agricultural tires and tubes, is proud to announce that 1091 Pictures have secured the world rights to CEO Tony Gonzalez' feature film, Vandal. The thriller is an Exilium production starring Daniel Zovatto (Don't Breathe), Otmara Marrero (Connecting…, StartUp), Beau Knapp (Southpaw), Juan Pablo Raba (Narcos), Richard Schiff (The Good Doctor), and Frankie J. Alvarez (Looking). The film will be available to purchase or rent on most major streaming platforms beginning November 16, 2021.
Vandal is the story of Zovatto a young leader of an infamous graffiti crew in Miami who experiences love, loss, and the consequences of his actions as he comes of age, struggling to justify his obsession with illegal street graffiti. The film is directed by Jose Daniel Freixas and written by Tony Gonzalez, Jose Daniel Freixas, Paul Taegel, Derek Mether, and Andrew Bozalis. Executive Producers are Rob Weiss, Kelly "Risk" Graval, Marco Vicini, and Tony Gonzalez.
Tony Gonzalez, the film's co-writer and co-producer, is the Founder, CEO and Chairman of Tire Group International, a company celebrating its 30 year anniversary. As a personal celebration of 30 years of success in business, Tony has acted on his lifelong passion for film and music, creating Rock the Moon, a successful music label, and Exilium, a film production company.
"Having the opportunity to co-write and produce this film alongside a talented group of actors and a dedicated crew was as exciting as anything I have ever done in my professional career," stated Tony Gonzalez. "It has always been a dream to be able to deliver a story that can inspire and inform a global audience, a story that has many lessons for the young and old alike."
1091 Pictures, a modern distribution partner for independent film and series owners based in New York and Los Angeles, is as excited as Tony about the project.
"Vandal showcases an authentic and unique perspective of the graffiti world," said Greg Maurice, Director of Content Acquisition for 1091 Pictures. "Both the godfather of Los Angeles graffiti, Kelly 'Risk' Gravall, and Atlanta graffiti legend, Dax Rudnak from the Dungeon Family, approved of the portrayal of true experiences graffiti artists encounter throughout the film. Jay Dee's selection of an inclusive, award-winning crew including Gregory Tripi, Caleb Heyman and Oscar-winning casting director, Yesi Ramirez, was the perfect combination to authentically highlight the world of graffiti, something most people see but don't know anything about."
The movie distribution and rights deal was negotiated by Tony Gonzalez on behalf of the filmmakers and Greg Maurice of 1091 Pictures. Learn more about Vandal by visiting the movie website and connecting with Vandal on Facebook, Instagram and Twitter. Watch the trailer movie trailer and see the movie on most major streaming channels.
About 1091 Pictures:
1091 Pictures is a modern distribution partner for independent film and series owners based in New York and Los Angeles, offering content licensing and delivery to over 100 destinations in over 100 countries. The company represents over 500 filmmakers and distributors and has amassed over 150 award nominations, including two Academy Award® nominations, an Emmy nomination, a Grammy Award for Best Music Film, and over a dozen Spirit Awards nominations. Leading the way in digital distribution, 1091 Pictures helps its clients navigate the streaming landscape, providing marketing resources and valuable insights through partnering with its parent company's new technology platform in development, Streamwise. 1091 Pictures' diverse slate of releases include NYT Critics Picks such as The Ghost of Peter Sellers and Grammy-Award Winner Linda Ronstadt: The Sound of My Voice, riveting sports stories such as A Kid From Coney Island executive produced by Kevin Durant and featuring Stephon Marbury and Red Bull's The Dawn Wall, audience favorites such as The Last Blockbuster, groundbreaking documentaries such as Close Encounters of The Fifth Kind and The Phenomenon, which reveal the latest intelligence on UFOs, and indie film hits such as Academy Award® Winner Taika Waititi's Hunt for the Wilderpeople, Spirit Awards winner Christine, and the knockout comedy The Overnight, starring Adam Scott, Taylor Schilling and Jason Schwartzman.
About Exilium:
Exilium is an American production company focused on developing, producing, and financing film, television, and digital content from a minority perspective. Founded by Cuban-Americans Jose Daniel Freixas and Tony Gonzalez, Exilium has been active on several Hispanic and Latin American-focused projects based on award-winning books such as The Corporation: An Epic Story of the Cuban Underworld by NYTimes bestselling author T.J. English which tells the true story of the Cuban Mafia in America. The Corporation was the subject of a highly-publicized bidding war which resulted in a deal with Paramount Pictures, with Leonardo DiCaprio producing alongside Exilium and Benicio Del Toro set to star. Exilium also has the film and television rights to the National Book Award-winning memoir Waiting for Snow in Havana and Learning to Die in Miami by Carlos Eire, and a book based on the Pulitzer Prize finalist investigation Dirty Gold: The Rise and Fall of an International Smuggling Ring by Miami Herald journalists Jay Weaver, NIcholas Nehemas, Kyra Gurney, and Jim Wyss. Exilium is currently prepping The Last Kilo: Willie Falcon and the Cocaine Era that Seduced America. Upcoming projects for Exilium include a film adaption of The Corporation: An Epic Story of the Cuban American Underworld by New York Times bestselling author T.J. English, which will star Benicio Del Toro with Leonardo DiCaprio attached to produce, and a forthcoming T.J. English book The Last Kilo: Willie Falcon and the Cocaine Era That Seduced America in the works. Upcoming projects for the cast include Daniel Zovatto in HBO Max's Station Eleven and Otmara Marrero in the upcoming Netflix series Florida Man.
About Tire Group International (TGI):
Tire Group International is world's leading supplier of premium-quality sports, passenger, off-road, light truck, truck, industrial and agricultural tires and tubes. First founded in 1992, TGI supplies over 30 different brands of tires, including several brands of tubes, wheels and repair products to wholesalers, retailers, dealerships and mechanics. TGI is also the dominant provider in the USA, South America, the Caribbean and the Middle East. The core of TGI's 30 years of success resides in our first class customer service, top quality products and vast experience in the international trade. TGI's slogan "Selling Happiness Since 1992, permeates through every aspect of business practices. From the products, to the customer service, TGI is one team and one network, dedicated to exceeding customers' expectations at every step of the process. Tire Group International is a proud distributor of Astro Tires, Cooper Tires, Cosmo Tires, Kuhmo Tire, Mickey Thompson Tires & Wheels.