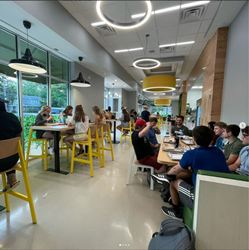 Now that we've served our new customers for a few months, we're ready to show everyone what Pastadoro is all about.
EWING TOWNSHIP, N.J. (PRWEB) November 13, 2021
Pastadoro is a new casual Italian eatery providing authentic Italian cuisine that is also fast and affordable. The spot is within the College of New Jersey's Campus Town, a walkable main street near the University in Ewing Township.
"Although the restaurant opened in September," stated head chef Anthony Adragna. "We always planned on having a large event for the local community and campus once we had everything running smoothly. Now that we've served our new customers for a few months, we're ready to show everyone what Pastadoro is all about."
Pastadoro promises something unique and, in particular, a different concept for Italian food. Everything is made fresh, on-site every day, but it's also fast and affordable for today's busy customers.
Investing in modern equipment and technology allows Pastadoro to create numerous Italian dishes, fresh every day. Pastadoro consistently delivers a higher level of taste and quality out of our kitchen every day.
Inside, Pastadoro presents a stylish and modern design, very clean, bright, inviting, and open. The interior seats 40 to 45 diners; in addition to outdoor seating for another 20 to 25 people, complete with heaters, tables, and chairs. Imagine a Sunday style, high quality, slow cooked, all-day sauce and meatballs and pasta in mere minutes. "We felt people want to eat out again, but also enjoy taking amazing food home to their family. It was a perfect time for us to bring this concept to New Jersey," says the Pastadoro management team.
Freshness and quality are the top priorities for the Pastadoro menu. Their marquee item is the build-your-own pasta and sauce bowl with various topping options. For instance, they have 9 types of pasta, 8 types of sauce, 7 regular toppings, and 7 "primo" toppings. (Primo toppings include meatballs, bacon crunch, and chicken, as well as sausage and broccoli).
Other Pastadoro menu highlights include panini sandwiches on Brooklyn ciabatta bread, homemade gelato for dessert in a number of flavors and authentic cappuccinos and espressos as well.
The festivities for the Grand Opening include a Ribbon Cutting Ceremony at 4pm which will include Ewing Township Mayor Bert H. Steinmann, State Senator Shirley K. Turner, Councilwoman Sarah Steward and The College of New Jersey President Kathryn A. Foster. Other highlights include live music from area musician Matt Santry, free samples, prizes and giveaways as well as visits from local radio stations NJ 101.5 and 94.5 PST.
We can't wait to meet more of our neighbors from the local residential and business communities, as well as the students and staff of the TCNJ campus. Come join us for a fun filled family day with great food and fun for everyone.
Contact:
AffirmBrands Marketing
484.685.8195
events@affirmbrands.com
About Pastadoro:
Located at 100 Campus Town Circle #101, in Ewing Township, NJ 08638 at the Campus Town Retail Shops near The College Of New Jersey. We pride ourselves in creating fresh, fast, and flavorful Italian favorites on-site every day, in a casual and inviting location. Dine-in, take out and delivery options are always available, 7 days a week from 11am to 10pm as well as local on-site business luncheons and more. Visit http://www.pastadoro.com to learn more.