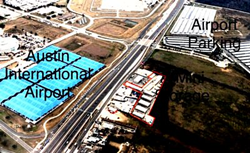 This is a noteworthy opportunity for investors. - Mark Thomas
Austin, Texas (PRWEB) November 13, 2021
November 12, 2021: A super-prime real estate location across from the Austin-Bergstrom International Airport is on the market through an exclusive online auction. Offered by Auction Section in Houston, the property for sale is situated with frontage on Texas Highway 71 directly in the path of all Austin-bound exiting traffic from the airport and is only six miles from the new Tesla Giga Factory. The online auction ends November 16th at 11 am.
The property consists of 2.75+/- acres and a three-building A-Mini Storage facility with 47,050+/- sq. ft of buildings at 2381 E Hwy 71 Del Valle, TX 78617. "This is a noteworthy opportunity for investors," said broker and auctioneer Mark Thomas of Auction Section. "At an amazing estimated $420K NOI, the profitability of this storage facility should allow an investor a considerable time period to hold this location for future sale or development. "It's an ideal location for a hotel."
Auction Section is an exclusive property auction house, offering residential, commercial and rural properties. The company is located at 15219 Stuebner Airline Road, Suite 48, Houston, TX 77069.
Visit AuctionSection.com for all the details on this opportunity, terms and conditions, and to bid online or call Mark Thomas, broker and auctioneer TX Broker #386889, TX AUCT #13784 at 713-594-1576 or Logan Thomas, Realtor and auctioneer TX RE #619034, TX AUCT #17228 at 713-702-3666. LinkedIn Cooperating broker participation is offered.