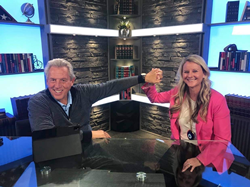 WELLINGTON, Fla. (PRWEB) November 16, 2021
Kelly Merbler, Principal of The Kelly Merbler Company, LLC and faculty member on the John Maxwell Team, will join leadership expert, author and speaker, Dr. John C. Maxwell to visit the Dominican Republic along with 200 other talented John Maxwell Team coaches this week to provide a series of conferences aimed at strengthening values-based leadership.
This event runs in conjunction with Dr. Maxwell's live transformation initiatives where coaches from the John Maxwell Team will convene in the Dominican Republic to train more than 30,000 facilitators from different organizations to launch the beginning of the values-based transformation program. These facilitators will spearhead these soft skills and values programs that have been a success in previous countries and that continue to garner leaders for the nations where the program operates.
Dr. Maxwell, called the world leadership guru, has written more than 85 books and sold more than 35 million copies around the world. His visit is part of the John Maxwell Leadership Foundation series of events. This entity was created by him to bring leadership values and soft skills programing at the country level.
In 2013, the John Maxwell Leadership Foundation began the country transformation initiative in Guatemala with such success that Paraguay and Costa Rica soon followed. After more than 3 million people have been reached in these nations with tangible changes in the leadership of all spheres of influence, the John Maxwell Leadership Foundation is now taking the first steps to do so in the Dominican Republic.
The strategic ally in the country is the Dominicana se Transforma Foundation, an entity that brings together influential leaders who want to see a better tomorrow for future generations and who lead operations at the local level.
For more information you can go to http://www.dominicanasetransforma.org
John C. Maxwell is a #1 New York Times bestselling author, coach, and speaker who has sold more than 30 million books in fifty languages. He has been identified as the #1 leader in business by the American Management Association® and the most influential leadership expert in the world by Business Insider and Inc. magazine. He is the founder of The John Maxwell Company, The John Maxwell Team, EQUIP, and the John Maxwell Leadership Foundation, organizations that have trained millions of leaders from every country of the world. A recipient of the Horatio Alger Award, as well as the Mother Teresa Prize for Global Peace and Leadership from the Luminary Leadership Network, Dr. Maxwell speaks each year to Fortune 500 companies, presidents of nations, and many of the world's top business leaders.