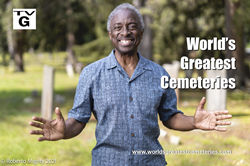 "If I could go back in time and counsel my younger self, I would tell my younger self: 'Don't marry that man…'"
HOLDEN, Mass. (PRWEB) November 15, 2021
Celestial Media LLC announces Season 1 releases of two new public television series: "World's Greatest Cemeteries" and "getting dot OLDER", both distributed by American Public Television. Presenting Station is Northern California Public Media.
"World's Greatest Cemeteries" (Season 1, six half-hour episodes) debuted across the USA October 4th, 2021 to rave viewer comments.
"getting dot OLDER" (Season 1, thirteen half-hour episodes) will premiere January 1st, 2022.
World's Greatest Cemeteries trailer/site:http://www.worldsgreatestcemeteries.com
getting dot OLDER trailer/site:http://www.gettingdotolder.com
These shows are the first developed by Celestial Media, LLC. Roberto Mighty, Principal and Senior Producer, says "My new production company will work with television, streamers, networks, theaters, museums and online to reach today's audiences with engaging programs, innovative creative approaches, and expanded ideas about inclusivity."
World's Greatest Cemeteries
The world's greatest cemeteries hold more than mortal remains. They are also monuments to landscape, design, horticulture, and history. Join Host/Producer Roberto Mighty as he tours these beautiful outdoor museums with cultural experts, historians, authors, and actors. Together, they share inspiring stories about diverse historical figures who helped make our world what it is today.
Season 1 takes us to some of the most breathtaking burial grounds and cultural sites in the world, including London's Highgate Cemetery; Mount Auburn Cemetery in Massachusetts; New York's Green-Wood Cemetery; Hollywood Forever Cemetery in Los Angeles; The Chateau Monte Cristo near Paris; and Cincinnati's Spring Grove Cemetery & Arboretum.
Exciting bios include Douglas Adams, author of The Hitchhiker's Guide to the Galaxy; Edmonia Lewis, America's first internationally renowned woman artist of color; Alexandre Dumas, author of The Three Musketeers; and many others.
Due to growing station carriage and viewer responses, work has already begun on Season 2.
----------------------------
getting dot OLDER
"getting dot OLDER" features intimate revelations about aging from diverse baby boomers, with commentary by nationally recognized experts on aging-related issues. Innovative concept includes interviews and "day in the life" clips filmed in studio, on location, via viewer selfies and excerpts from video calls. In addition, viewers are invited to fill out an online survey and may be chosen for a TV interview.
From deeply poignant to laugh-out-loud funny, "getting dot OLDER"'s Host/Producer, Roberto Mighty, helps baby boomers share their deepest feelings: A bicycle activist. A ballroom-dancing Chinese teacher. A transgender software developer. A Sikh entrepreneur. A Puerto-Rican singer. A cattle rancher. Native Alaskan artists. And many more diverse Americans, 50+.
"getting dot OLDER'' features true stories from ordinary people who open up to Roberto about tragedy, triumph, humor, love, loss -- and sometimes -- just holding on:
"If I could go back in time and counsel my younger self, I would tell my younger self: 'Don't marry that man…'"
"I'm ashamed that I'm not financially savvy…"
"I never told my family that I was gay...they said 'Child, Stevie Wonder could see this!'"
"getting dot OLDER" also features brief commentaries by experts from Harvard School of Public Health, Howard University, Johns Hopkins Medical School, University of Vermont, and more — on relationships, dating, caregiving, health, intimacy, nutrition, housing, personal finance, and other issues of concern to people over 50.
Host/Producer
Roberto Mighty, MFA, is an award-winning filmmaker, TV producer, multimedia artist, educator and musician. His works include films, residencies and exhibitions at Harvard University, The National Science Foundation, and film festivals. He is America's first Artist-in-Residence at a National Historic Landmark cemetery. Roberto's new historical documentary about Martin Luther King and Coretta Scott King, "Legacy of Love", is being released to public TV stations nationwide via the National Educational Telecommunications Association (NETA). Mr. Mighty taught cinematography, editing and video production at Boston University and Emerson College; is a proud Dad; plays guitar every day and needs to get more exercise. ###