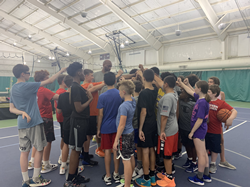 "Overcoming fear, resilience, work ethic, teamwork, developing a strong mindset and effective communication – those skills are critical on the court and in life, especially now," said retired NBA player, John Wallace
KATONAH, N.Y. (PRWEB) November 16, 2021
The Harvey School - a College Preparatory School in Katonah, NY and SpeakWell Youth Leadership have teamed up to host the [John Wallace SpeakWell Basketball Camp. The camp will be led by Syracuse University legend, retired NBA player, and a first-round draft pick of the NY Knicks, John Wallace, who will work with kids to help build social, emotional, and physical skills.
Studies increasingly show the devastating and longer-term impact of the pandemic on students' academic, physical and emotional well-being, with depression and anxiety rates among tweens and teens skyrocketing and coping and communication skills plummeting. A report by the Children's Hospital Association cites seven acute effects of the pandemic, including a four-fold increase in adult stress and adverse childhood experiences that have resulted in heightened levels of student anxiety, trauma, behavioral issues, and learning loss. A report from Inside SEL cited a study by Tyton Partners noting nearly 75% of teachers feel their students have fallen behind academically, socially, and emotionally, and a McKinsey report showed students are anywhere from 4-12 months behind, with vulnerable students most negatively impacted.
Camp leaders Mr. Wallace and SpeakWell founder Patty Kennedy say the SpeakWell after-school programs, basketball, and acting camps, are trying to help combat the harsh reality by complementing schools' offerings, teaching positive mindset, practical communication, and building physically and mentally healthier students.
"Overcoming fear, resilience, work ethic, teamwork, developing a strong mindset and effective communication – those skills are critical on the court and in life, especially now," said Mr. Wallace.
Harvey School leadership agrees it is essential to help students build leadership, connection, and confidence on and off the court. "At Harvey, we're focused on shaping minds and building character. We believe the John Wallace / SpeakWell camp aligns well with our mission and is one additional way to help our students soar," said Dr. Brendan Byrne, Head of Harvey's Middle School and the MS Maroon Basketball Coach.
SpeakWell parent Annette Cremin - whose two sons participated in both the after-school programs, John Wallace basketball camps, and older son delivered a TEDx talk through the program - commented, "SpeakWell should be a staple in every school. I can only imagine the impact on future generations as the impact on my children has been extraordinary."
Wallace -- whose #44 jersey was retired by Syracuse University in February 2020 - is focused on building stronger students, better players but also helping to build a legacy. "It's amazing how the program impacts the kids - building their confidence and desire to better themselves as well as their ability to work and communicate together, across divides and communities," said Wallace. SpeakWell's registered non-profit arm raises scholarship funds for schools and students in need and aims to provide scholarships for 50% of its students.
NOTE TO REPORTERS: The John Wallace SpeakWell camp takes place Nov. 16-19th at The Harvey School in Katonah, NY, from 3:30 pm-6:30 pm. To attend a portion of the camp and interviews, please contact Annie Nelson at 312-493-3050 or email info@speakwell.rocks.
About SpeakWell
The SpeakWell public speaking and youth leadership program began with nine students at St. Joseph's School - Yorkville, in NYC. Those students became the first in the country from a K-8 school to each deliver TEDx talks, speak on corporate panels at international organizations including UBS & BT, write and publish national articles. The 7th-grade students also far exceeded 12th-grade listening & speaking standards. Alongside founder Patty Kennedy, retired NBA player John Wallace and 'Homeland' and '13 Reasons Why,' Actress Amy Hargreaves serve as program role models, regularly speak with students, and also lead the basketball and acting camps. The program and camps have grown from nine students to more than 300 in 18 months. In 2021-2022, SpeakWell plans to reach more than 1,000 students, nationally and internationally. For more information, to sign up, engage your school, or donate to scholarships, visit http://www.speakwell.rocks or contact info@speakwell.rocks.