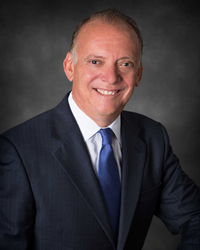 "Bill's wealth of experience and proven results align with our investment strategy," said Eric "Rick" Wiener, Chairman of MAXX Properties. "We are excited to work together to unlock future growth opportunities."
HARRISON, N.Y. (PRWEB) November 17, 2021
MAXX Properties—a privately held real estate company—announced today that William Markey will join as Chief Executive Officer.
Mr. Markey will assume his role on November 15 bringing more than 35 years of leadership experience, most recently as the Head of Acquisitions & Capital Markets for MetLife Investment Management.
Mr. Markey's illustrious career includes spearheading the acquisition of $20 billion in real estate, completing $10 billion of financing for MetLife, and managing commercial mortgage originations, which generated a volume of nearly $1 billion per month. Markey also launched MetLife's commercial real estate repo desk, which financed mezzanine loans and other structured fixed-income positions.
He managed more than $8 billion in assets including Stuyvesant Town, Peter Cooper Village, and the MetLife Building at 200 Park Avenue.
Markey has a BA in economics and earned an MBA from Rutgers University. He is a member of the International Council of Shopping Centers (ICSC) and Urban Land Institute (ULI) where he is Vice-Chair for a product council.
"I feel honored to join the leadership of such an accomplished real estate operating platform." Markey said. "I'm excited to join a team that's got nearly a century of proven success and that has so much growth potential."
Eric "Rick" Wiener and Andrew Wiener will continue in their roles as Chairman and Vice-Chairman, respectively, after acting as interim co-CEOs. David Wiener is Executive Director whose duties are allocated primarily toward strategic planning, capital allocation, and acquisitions.
"Bill's wealth of experience and proven results align with our investment strategy," said Eric "Rick" Wiener, Chairman of MAXX Properties. "We are excited to work together to unlock future growth opportunities."
About MAXX PROPERTIES
MAXX Properties is a privately held, 85-year-old real estate firm consisting of multifamily, commercial, and cooperatives. Now operating under the fourth generation of Wiener family leadership, the MAXX Properties portfolio includes 38 communities consisting of 9,090 owned multifamily units in six states across the country and an additional 992 sponsor units and 32 managed cooperative units in New York. For more information, please visit http://www.maxxproperties.com.