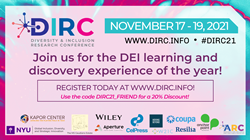 DIRC21, the leading DEI Research Conference taking place as a virtual event on Nov 17-19, introduces Disruptive Conversations with leaders from the ACLU, Salesforce, UBS and NYU.
NEW YORK (PRWEB) November 16, 2021
The Diversity & Inclusion Research Conference (DIRC21) is a partnership between DEI research nonprofit ARC, and the NYU Office of Global Inclusion, Diversity and Strategic Innovation. Taking place for the fourth consecutive year this November 17-19 as a virtual event, DIRC21 recently announced the launch of a novel format, called "Disruptive Conversations," which brings together thought leaders to discuss timely topics linked to disruptive events impacting Diversity, Equity and Inclusion (DEI) across key areas of our society.
To inaugurate this series, DIRC21 will feature Disruptive Conversations focused on DEI across three crucial aspects of our society: healthcare, infrastructure and education.

ACLU President Deborah Archer will be joined by NYU Senior Associate Vice President Monroe France to discuss the recent US Government Infrastructure Bill, framing it in a historical context to explore how this Bill may increase or decrease segregation and societal inequities.
Salesforce Senior Vice President and Executive Medical Director Dr. Geeta Nayyar will be joined by Salesforce Sr. Strategy Leader and BOLDforce Global President, Lola Banjo, in a conversation provocatively titled "No, You Should Not Drink Bleach to Prevent COVID-19 Infection" to explore the barrage of information, misinformation, and disinformation surrounding COVID-19.
NYU Senior Vice President for Global Inclusion and Strategic Innovation, Dr. Lisa Coleman will be joined by UBS Managing Director Mark Wilkins to discuss "Disruption & Higher Education: Are we the Blockbuster of today?" This session will focus on challenges and disruptions across the higher education landscape and what innovations are relevant now.
These Disruptive Conversations further strengthen the stellar roster of corporate leaders, academics, DEI practitioners, policymakers and philanthropists who will share insights and best practices on how research can address today's most pressing societal issues related to Diversity, Equity and Inclusion.
"DIRC21 is designed to give our audience a wide range of perspectives: from well-established practices to innovative approaches, and from historical research to predictions about the future of our society. The Disruptive Conversations allow us to include timely topics of the greatest interest to society," said DIRC21 chairman Paolo Gaudiano. "This format will also give our audience a sneak peek at a series of thought-leadership events we are launching in 2022. We have seen huge demand for our unique content at the intersection of research and DEI; having reached a critical mass, we are going to extend DIRC to a year-long series of activities, culminating in the annual conference each November."
Details about these new activities and the dates of next year's annual conference will be announced during DIRC21.
DIRC21, is the must-attend DEI event of the year, whether you are already deeply involved with DEI, looking for best practices and tangible ways to incorporate DEI into your organization, interested in learning about innovative and cutting-edge DEI initiatives and solutions, or simply eager to be inspired by stimulating and thought-provoking conversation about DEI.
The DIRC21 agenda, featuring a list of nearly 100 presenters and facilitators, can be found on the DIRC21 website (https://DIRC.info), along with details about the TED-style talks, panels, spotlight presentations, disruptive conversations, Q&A sessions and other compelling content that will provide a unique, tailored learning experience for thousands of attendees from around the globe.
For additional information, to request press passes, or to purchase tickets, please visit http://www.DIRC.info.
About ARC:
Aleria Research Corp (ARC) is a 501(c)(3) that leverages Diversity & Inclusion Research to pinpoint root causes and identify solutions to help make our society more inclusive and equitable. ARC partners with foundations, government agencies, academic institutions and corporations to tackle some of society's most pressing inequities.
About New York University's (NYU) Office of Global Inclusion, Diversity, and Strategic Innovation:
As part of NYU's Office of the President, the Office of Global Inclusion, Diversity, and Strategic Innovation (or OGI for short) is charged with leading NYU's efforts to foster diversity, equity, and inclusion across the University's global network. OGI partners closely with students, faculty, administrators, staff, alumni, and external partners to advance inclusive excellence and innovation across all of NYU and its locations.