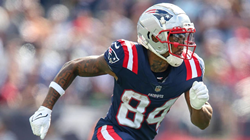 "I can't wait for these to drop. I know my fans are going to love the DRIP!"
SEATTLE (PRWEB) November 17, 2021
Disruptive Sports Agency has announced that they will join the NFT business world by officially launching 3 NFTs with Patriot's wide receiver Kendrick Bourne. Disruptive's graphics department will create cutting edge digital art that mirror 3 separate pairs of personalized Nike Air Force One sneakers.
The inspiration for the NFTs come from Kendrick's love of shoes. Disruptive will auction 3 separate Kendrick Bourne NFTs that are each accompanied by a different pair of customized Nike Air Force Ones. One pair will showcase the rich tradition of sports in Boston, another will champion Kendrick's Samoan heritage, and the last pair will showcase Kendrick on his own currency. The auction will be held on Sunday, December 19th, and each of the 3 NFTs will be available for sale on OpenSea's marketplace.
Kendrick Bourne voiced his enthusiasm for his first NFTs, "I can't wait for these to drop. I know my fans are going to love the DRIP!"
Disruptive is excited about another opportunity to elevate their brand in the sports industry. Co-founder Hector Rivas states, "We have been working really hard behind the scenes to get this part of our business consumer-facing." The co-founder is also enthusiastic about the NFT development. "This will be the first of many NFTs that we create for professional athletes."
Henry Organ, co-founder of Disruptive Sports and NFLPA agent, emphasizes the importance of helping their clients achieve success off the field, "We wanted to help Kendrick Bourne continue to build out his brand in the digital space. We have a responsibility as an agency to continue to find valuable opportunities for our clients and I am pleased that we are moving forward on this project."
Disruptive plans on releasing additional information on the NFTs each week on social media leading up to the auction in December. Fans can sign up at Disruptive's website to get exclusive looks and behind-the-scenes work of the digital art.
OpenSea is the first and largest marketplace for peer-to-peer exchanges of crypto-goods. Anyone is able to buy or sell crypto items on OpenSea through a smart contract.