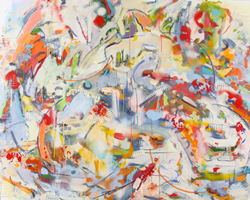 I think it will completely change how collectors find artists.
DENVER (PRWEB) November 18, 2021
Altamira launched a new social commerce platform today that helps art fans, collectors and investors discover today's best artists and purchase their artwork.
"We've taken the best from Reddit, Instagram and eCommerce and combined them into one unified experience tailored specifically for art," said Michael Facchinello, founder and CEO of Altamira.
Great artists get ripped off in galleries if they can even get in, while art enthusiasts, investors and collectors often have to rely on black box third parties to find great art.
Altamira solves these problems by empowering today's great artists to build brand equity and sell their art on one community-oriented platform. Altamira also gives art fans and collectors access to artists and allows them to interact and engage through voting and critiques, enhancing both the artist's and the purchaser's experience. The platform provides freedom for artists to control pricing and profitability while building their brand and audience.
"Our goal is to become the only way artists want to sell their work and the only way collectors and fans want to buy it," Facchinello continued. "To achieve this, we've put artists first. We've created a platform with artist-centric benefits such as resale royalties and an unprecedented 90% commission for artists, almost double what they would make in a traditional gallery. For collectors, Altamira offers the certainty, access and discoverability that galleries and other art eCommerce platforms cannot. We believe community makes art better."
Altamira is poised to ride the growing shift to online art sales. According to Art Basel and UBS, global online art sales grew from $3.1B to $6B between 2013 and 2019. In 2020, that doubled from $6B to $12B. As millennial collectors are coming of age and spending more on art, they now represent more than 69% of purchases over $1M.
The Altamira platform is simple. Patrons visit Altamira.art, upvote their favorite pieces, leave critiques and buy the pieces they love. When collectors receive their art, they can add a photo of it to their home on Altamira to add to its story. If collectors later want to resell the piece, they simply convert the listing back to active, with the gratifying knowledge that a portion of the resale price goes back to the original artist.
In addition to making the purchase process easier for the buyer, Altamira also makes selling easier for the artist. Not only do the artists make almost twice as much on commission than they would selling their art through a traditional gallery, but Altamira also offers packaging and shipping services. The artists simply select the shipping method they prefer and Altamira sends a team out to the artist's studio to collect, package and ship the artwork.
"Altamira allows me to get my work in front of art collectors. It is similar to Instagram, but tailored only to art, which means I can build a following of people more likely to buy my work," said Jason Siegel, sculptor and photographer. "When somebody finds my art and wants to buy it, they don't have to click a link in bio; they can just buy it. The best part is that I don't have to think about packing or shipping."
"This is what the art world has been needing for a long time" added League OTO founder and art collector Gamriel Wills. "I think it will completely change how collectors find artists."
To discover today's greatest art, visit Altamira.art