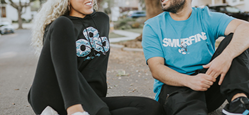 LOS ANGELES (PRWEB) November 18, 2021
Created especially for Cloud9, the collaboration features a full line of uniquely designed hoodies, tees, jerseys, and accessories, with the exciting addition of a new character: "Gamer Smurf"!
With its matching colors and sense of fun, Cloud9 and The Smurfs partnered in hopes to strike feelings of joy and nostalgia with fans as the collaboration pays homage to childhood classic, The Smurfs, and C9's history of smurfing in their competitions.
The term, "Smurfing", was created by two World of Warcraft players using alternate accounts under the names of Papa Smurf and Smurfette to describe when high-level players create new accounts to play against and beat lower-ranked players. Over time, the practice of Smurfing and the term has evolved into one of the most popular memes used to celebrate the most exciting and winningest moments in gaming and esports.
As a nod to the history of Smurfing, Cloud9 enlisted legendary WoW players, Venruki and Ziqo, to be featured in their launch commercial.
Over the last 60 years, The Smurfs has become a worldwide phenomenon that has expanded into films, more television series, theme parks, video games, toys, apparel and more.
Cloud9 x The Smurfs collection is available at the http://www.c9.gg/TheSmurfs starting November 18th!
About Cloud9
Founded in 2013, Cloud9 has grown to become one of the most recognizable esports organizations in the world. With championships industry-wide, unmatched viewership hours, and a positive environment for players and staff, Cloud9 prides itself on being the best in all categories.
At this time, Cloud9 fields professional teams in Apex Legends, Chess, Fortnite, Halo, Hearthstone, League of Legends, Overwatch, Super Smash Bros. Melee, Teamfight Tactics, VALORANT, Wild Rift, and World of Warcraft.
To find more information about Cloud9, visit https://www.cloud9.gg.
About Peyo, IMPS / Lafig (International Merchandising Promotions & Services) - THE SMURFS
IMPS, is the official licensors of the little blue-skinned characters.
'The Smurfs'. Over the years, IMPS (since 1984) have worked in close collaboration with their agents worldwide to develop successful licensed merchandising programs, retail- and co-branded promotions, publishing activities, broadcasting deals, theme parks, family entertainment centers, live shows, video games, online games, Smurf music … that have secured the everlasting success of the Smurfs.
IMPS is run by Véronique Culliford, the daughter of Pierre Culliford, the creator of the Smurfs, who is better known under his pseudonym Peyo.