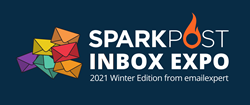 "I am very happy to be endorsing InboxExpo.com" said Steve Wozniak, Apple co-Founder "it attracts my interest because my life is based on email".
VALENCIA, Spain (PRWEB) November 18, 2021
Up to 200 senior email industry executives will come together in Valencia, Spain, on December 14 to celebrate the 50th anniversary of email at the SparkPost Inbox Expo to network and learn from 25 global speakers.
The three-day event features multiple tracks of live content including learning, working groups, networking and an active social events calendar. SparkPost Inbox Expo will bring in leaders in email, marketing, CRM and digital privacy and security and will be held at the Las Arenas five-star grand luxury spa resort.
"I am very happy to be endorsing InboxExpo.com," said Apple co-founder Steve Wozniak. "[This event] attracts my interest because my life is based on email."
At SparkPost Inbox Expo, industry senior leaders, founders and CMOs will meet and collaborate with engineers and other industry players such DevOps, product, and platform professionals. Industries represented by event participants include e-commerce, SaaS, finance, martech, media, security and telecommunications.
"I'm excited we could sponsor this event," said George Shlossnagle, founder and distinguished engineer, SparkPost. "It is the premier email conference. Between fantastic industry speakers and content that covers the entire email lifecycle, from technical implementation to creative strategy, it's really a one-stop-shop for what's going on in email."
Delegates at the conference will meet with email pioneers to learn about the latest technology trends from brand side practitioners and from organizations such as WeTransfer, Hilton International, Ria Finance, Change.org, ColossusBets and Framer.
Kait Creamer, CRM Marketing Manager, Framer, said, "I'll be on stage coaching attendees. Ultimately, great marketing is all about building relationships, and I'm excited that attendees will walk away with some practical tips for growing their own email audiences."
Although SparkPost Inbox Expo is a live event in Valencia, it is also a fully hybrid event with a virtual portion with the entire expo running ten days.
The Valencia event will even feature a kickoff keynote presentation from Washington D.C. by Kevin A. McGrail (known as "KAM"), principal evangelist at Dito, and noted for combating abuse on the email channel, to the live audience in Spain.
"This will be our third Inbox Expo," said Nely Bonar, director at emailexpert. "I am delighted to see the continued growth of Inbox Expo, and to see it finally materialize as a truly hybrid event."
The event is attended by those active in the email marketing, email authentication, anti-spam, deliverability and email security space. Topics covered include MTA's, email design, interactive email design, lifecycle marketing, email authentication, BIMI, DMARC, compliance and abuse management.
Tickets are available for SparkPost Inbox Expo in Valencia to be held over December 14-16. The code "NEWSX20" offers a 20% discount until November 26.
About Inbox Expo
Inbox Expo events are organized by emailexpert, a British business and the oldest independent community for email professionals. Inbox Expo was the first email conference in the world to go online in March 2020, as Mapp Inbox Expo. Days into a global pandemic, the in-person event at the London Science Gallery had to pivot to an online format.
In summer 2021, the Netcore Inbox Expo was the highest attended online email conference with more than 1400 online delegates active at the event .
Emailexpert is a community of over 5000 email experts helping each other by sharing knowledge and experience and working together to protect the interests of a healthy messaging ecosystem. Its platform is a directory of vendors, agencies and professionals in the email space. The emailexpert network consists of half a dozen web properties and niche professional groups working to support email professionals in all areas from infrastructure and security to design and marketing.
About SparkPost
SparkPost is the industry's most trusted email optimization platform. SparkPost helps senders reliably reach the inbox with powerful solutions to help them plan, execute and optimize their email programs.
SparkPost is the world's largest sender sending 4-5 trillion emails annually – and also boasts the world's largest data footprint to help enterprise-level brands make data-driven decisions to improve their email performance. The world's most sophisticated senders work with SparkPost, including The New York Times, Zillow, Adobe and Booking.com trust SparkPost to elevate their email. Learn more at http://www.sparkpost.com or connect via Twitter, LinkedIn or the SparkPost blog.