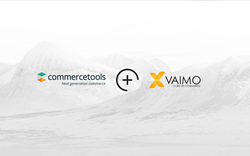 "We are well placed to jointly deliver fantastic customer experiences in the B2B and B2C commerce sector." - Dirk Weckerlei, Global VP commercetools
STOCKHOLM (PRWEB) November 18, 2021
Vaimo, a full-service global omnichannel agency is pleased to announce an official partnership with commercetools. With rapid changes in digital commerce, Vaimo initiated this partnership to fulfill the requirements of merchants who have chosen a headless commerce architecture. This new partnership gives merchants seeking a flexible solution the chance to meet customer needs—across all channels and touch-points—throughout their entire shopping journey.
In response to this new partnership, David Holender, Vaimo's CEO, stated, "We are excited to partner with commercetools. Their innovative headless commerce platform is changing the face of commerce as we know it. This partnership will allow us to meet the demands of today's ecommerce — where we support brands and merchants to grow their digital presence and push the boundaries in experience-driven commerce."
Commercetools is a leading cloud-native headless commerce platform suitable for microservice architectures, where all commerce capabilities are exposed through APIs and each API can be consumed independently. In 2021, Gartner named commercetools as a Leader in the 2021 Gartner® Magic Quadrant™ for Digital Commerce for the second year in a row. They received distinction as a leading commerce company for both their B2B and B2C digital commerce solutions. With a headless commerce platform that separates frontend and backend functionality, commercetools enables businesses to build seamless shopping experiences across all digital touchpoints. The flexibility of the commercetools API allows merchants to be agile in a dynamic digital commerce world.
"Partnerships have always been an integral part of commercetools' success, and we are now very excited to welcome Vaimo to our partner ecosystem to drive growth across Northern Europe and the Middle East and beyond. Vaimo has established itself as one of the leaders in commerce services over the past few years and has recognised the importance of adopting a composable approach. By combining commercetools' MACH platform, with Vaimo's strategy, design, development and engineering prowess, we are well placed to jointly deliver fantastic customer experiences in the B2B and B2C commerce sector," stated Dirk Weckerlei, Global VP Channel & Alliances at commercetools.
About Vaimo
Vaimo is one of the world's most respected experts in digital commerce. As a full-service omnichannel agency, Vaimo delivers digital enablement, customer experience design, solution development and managed services to brands, retailers, and manufacturers all over the world. Their sharp focus, broad experience, and deep expertise within B2B, B2C, D2C, PIM, headless commerce, mobile apps, integrations, security make them a key partner for driving success in digital commerce. With local offices in 15+ markets across EMEA, APAC, and North America and over 500 employees, they provide an international presence that allows them to cultivate close, long-term relationships with merchants. For more information, visit https://www.vaimo.com/
About commercetools
commercetools is the world's leading platform for next-generation B2C and B2B commerce. To break the market out of being restrained by legacy suites, commercetools invented a headless, API-first, multi-tenant SaaS commerce platform that is cloud-native and uses flexible microservices. Using modern development building blocks in a true cloud platform provided by commercetools, customers can deliver the best commerce experiences across every touchpoint on a large scale. commercetools has offices across the US, Europe, and the Asia Pacific, with headquarters in Germany. Since 2010, commercetools software has been implemented by Fortune 500 companies across industries, from retail to manufacturing and from telecommunications to fashion. For more information, visit https://commercetools.com/