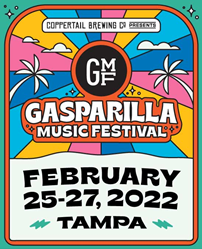 "We are excited to be back in the spring during Tampa's Gasparilla season."
TAMPA, Fla. (PRWEB) November 19, 2021
The Gasparilla Music Foundation (GMF) has officially confirmed its 2022 festival dates. The 11th annual Gasparilla Music Festival will take place February 25-27 in Curtis Hixon Park along Tampa's Riverwalk. A limited amount of discounted Early Bird tickets will go on sale Wednesday November 19 at 11am.
"We are excited to be back in the spring during Tampa's Gasparilla season," noted GMF's executive director David Cox. The festival was moved from the spring to the fall in 2021 due to the pandemic.
In 2021, GMF expanded its programming by adding a third day, Friday. After the success of the added day in 2021, the festival will further expand its programming on Friday in 2022 and will feature a full slate of vendors and bands on all four stages.
Limited quantity, deeply discounted "Early Bird" tickets will go on sale on November 19 and will be available online at gmftickets.com. The 2022 lineup will be announced in the coming weeks.
Early Bird Ticket Prices*
3-DAY GENERAL ADMISSION EARLY BIRD $70
2- DAY GENERAL ADMISSION EARLY BIRD (FRI/SAT) $50
2- DAY GENERAL ADMISSION EARLY BIRD (SAT/SUN) $50
3-DAY VIP EARLY BIRD $200
2-DAY VIP GENERAL ADMISSION EARLY BIRD (FRI/SAT) $150
2-DAY VIP GENERAL ADMISSION EARLY BIRD (SAT/SUN) $150
*plus any applicable taxes and fees
Vendors interested in participating at the festival please email GMF at vendors@gasparillamusic.com.
Volunteers interested in supporting the festival please email GMF at volunteers@gasparillamusic.com.
For general inquiries, please contact GMF at info@gasparillamusic.com.
About the Gasparilla Music Festival
The Gasparilla Music Festival takes place each year in various parks along Tampa's Riverwalk and includes bands from a wide variety of genres performing on multiple stages centered on Curtis Hixon Park. GMF 2022 featured 42 bands over 4 stages and 22 of those bands were Florida based. The independent and volunteer driven festival averages over 20,000 participants annually and has been voted Tampa Bay's #1 festival in each of its 10 years. The festival features food offerings from 14 of Tampa's favorite restaurants and is supported by over 350 volunteers annually. The Gasparilla Music Festival has been described as a "music fest on a mission" as proceeds from the festival support GMF's Recycled Tunes programs which provides music instruments to local Title 1 elementary schools. http://www.gasparillamusic.com
About the Gasparilla Music Foundation
The Gasparilla Music Foundation is a Tampa based 501 (c) (3) non-profit organization founded in 2011 that produces the Gasparilla Music Festival each year during the Gasparilla season in downtown Tampa. In addition to the festival, the organization operates year round throughout Tampa Bay supporting music education through its Recycled Tunes program and promoting local musicians through its GMF Productions program. So far in 2021, the foundation provided 713 instruments and music equipment to 50 Title 1 schools in Tampa Bay and provided over $125,000 in paid performance opportunities to local professional artists. The foundation is supported by proceeds from the festival and through its membership group Higher Ground. To learn more about becoming a member of Higher Ground, please visit http://www.gmfhigherground.com.