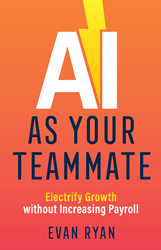 "Thoughtful use of AI gives teams power they might not know they have," said Jay Allred, President of Source Media Properties. "Evan's book shares the how-to of this for other companies so they might harness superpowers too."
COLUMBUS, Ohio (PRWEB) November 22, 2021
A new book shows business leaders how artificial intelligence is actionable technology that companies are quietly implementing to improve customer experience and reduce costs.
Evan Ryan, the founder of the expanding artificial intelligence (AI) consulting firm Teammate AI is bringing all the benefits of AI to small and medium-sized businesses. His book, "AI As Your Teammate: Electrify Growth without Increasing Payroll," demystifies AI and shows that it is not about taking humans out of business. The book is available on November 30, 2021.
"AI is the fastest, easiest way to scale a business, but it is also a big mystery to most business owners," said Ryan. "I recently read in Fast Company that AI is no longer just for big organizations. It is a revolution for all."
Business owners want growth to be easy, linear, but successful entrepreneurs learn early on that growth isn't linear. Scaling up means hitting one ceiling after another. All too often, breaking through requires drastic changes in payroll or infrastructure that the company isn't prepared to float.
"What if businesses could grow exponentially without increasing payroll? Or, what if a business could improve product reliability, and customer experience all while reducing employee turnover," asked Ryan. "These are questions I was asking, and still ask myself, as I was growing my own business. But simplifying things while maximizing other things is second nature to me. Even as a child, I tried to minimize work I did not enjoy, leaving more time to spend on things I love to do. Now, I do that for others."
Small and medium-sized businesses do not generally use AI because it seems overwhelming and mysterious. What they learn from reading "AI As Your Teammate" is that AI can free up people to do the most meaningful work, and typically inspires and motivates them.
"Thoughtful use of AI gives teams power they might not know they have," said Jay Allred, President of Source Media Properties. "When Richland Source decided to build an AI to help us cover more high school sports in our local newsroom, it was a big dream. We realized right away that AI gave our team superpowers. Evan's book shares the how-to of this for other companies so they might harness superpowers too."
Ryan's collaboration with Source Media Group led to their receipt of the Lion Publishers' Technology Innovation Award in 2019.
AI As Your Teammate: Electrify Growth without Increasing Payroll is available on Amazon. Learn more about AI As Your Teammate and enter a giveaway for a free copy on Goodreads.
A launch party will be held on Monday, November 29, 2021, at Idea Works, 40 West 4th Street in Mansfield, Ohio from 5:00 – 6:30 p.m., where the author will read and share AI success stories.
About Evan Ryan
Evan Ryan is the founder of Teammate AI, helping entrepreneurs scale their businesses using artificial intelligence. Teammate AI has launched and powered businesses such as Lede AI which uses AI to write, edit, and publish content—all without human intervention. "AI As Your Teammate: Electrify Growth Without Increasing Payroll" is his third book.
About Teammate AI
Over the past five years, Teammate AI has helped hundreds of businesses save millions of hours by using AI in everything from small tasks to complex, multi-day processes. Founder, Evan Ryan spends most of his time showing entrepreneurs how to save time with AI and designing solutions that help teams stop being human computers and start creating bigger, more dynamic value. The Teammate Coaching program is a proven program that provides companies with everything they need to understand what AI is and isn't, identify opportunities for AI in their business, design their solution, and build a great implementation team -- all in six months. Learn more at TeammateAI.com.
Links
https://www.amazon.com/AI-Your-Teammate-Electrify-Increasing-ebook/dp/B09JYWQY2C/ref=rvi_1/145-3906359-6672936?pd_rd_w=xDc0M&pf_rd_p=c0296674-5a83-4ad6-b035-0702d2b359df&pf_rd_r=14C65MV88NHKJSHMM45Z&pd_rd_r=e2e942b4-5da5-4755-86ce-e91567dc75fd&pd_rd_wg=schI3&pd_rd_i=B09JYWQY2C&psc=1
https://www.lionpublishers.com/announcing-the-2019-lion-publishers-awards-winners/
https://www.goodreads.com/book/show/59603740-ai-as-your-teammate?ac=1&from_search=true&qid=GQHV0cni0p&rank=1
https://www.teammateai.com/successstories.html
For Immediate Release
Contact: Terise Ryan
Valeo Consulting, LLC
(614) 323-7531
info@valeoconsulting.com