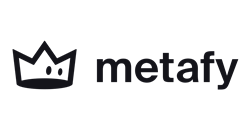 "Just like our students, we're constantly asking ourselves how we can be better, and we're all excited to move forward together and continue growing.``
PITTSBURGH (PRWEB) November 23, 2021
Metafy, a leading platform for one-on-one coaching from champion-level gamers, today announced its acquisition of GamersRdy, a former competitor with a like-minded mission to help players improve at the games they love through coaching, training and development from the world's top 1% of players.
Through this acquisition, Metafy will welcome GamersRdy's roster of more than 100 coaches, allowing the company to quickly expand its live-learning content offerings and continue to solidify its dominance in the gaming space. Aligned in their missions to evolve the education experience for gamers while giving coaches the opportunity to make a living teaching what they love, Metafy CEO and Co-Founder Josh Fabian, and GamersRdy Owner and Head of Experience Alex Gilmore were quick to realize that a partnership would be mutually beneficial.
"I'm so impressed with the coaching team and community Alex has curated at GamersRdy," Fabian said. "Metafy has a lock on the best "Super Smash Bros." coaching in the world, and we'll be able to say the same for Rocket League by bringing GamersRdy's talent into the fold. Just like our students, we're constantly asking ourselves how we can be better, and we're all excited to move forward together and continue growing."
Since its 2018 launch, GamersRdy grew to have over 20,000 active users seeking coaching for games like "Rocket League," "Fortnite," "Valorant" and "Counter-Strike." The company's revenues during the COVID-19 pandemic skyrocketed, increasing by over 120% in a short six months and marking 2021 its record in annual earnings. Now, Gilmore's industry knowledge and company success will transition to Metafy as he assumes a new role as product manager, responsible for helping build the future and growth of asynchronous learning and coaching.
"The decision to join Metafy was an important one," Gilmore said. "I was keen on using the experience I had built up with GamersRdy, but I wanted to make sure that Metafy had the same aspirations and care towards our coaches and community as I had. It was through my conversations with Josh that I realized how ultimately, this would genuinely benefit our coaches, creators and students, enabling them to join a community with bigger growth aspirations while retaining the closeness we've already built amongst each other."
Metafy's uncapped earnings potential speaks for itself, with coaches collectively profiting over $190,000 in the month of September alone, a 52% jump from August. Unlike other coaching platforms, Metafy imposes no hidden fees and promotes freedom and flexibility, and coaches being able to create and design their own schedules and set their own rates. This triple-threat has yet to be accomplished in the space until now, and the structure is rapidly attracting top caliber talent and gamers eager to learn. With more than 12,000 students currently on the platform, online bookings have seen an average 53% increase month-over-month since January.
Learn more about Metafy, its offerings and how to become a coach, visit http://www.metafy.gg.
About Metafy
Metafy's mission is to help gamers win more by providing flexible learning options including one-on-one online coaching and structured lessons for gamers of all skill levels from the world's best professional players. Metafy, which was co-founded by Josh Fabian and Thomas McNiven in August 2020, grants private one-on-one access to champion-level coaches across every game, from "Fortnite" to chess. As a black-owned business, Metafy is committed to promoting diversity and inclusivity on its platform and in the gaming community as a whole. For more information, visit http://www.metafy.gg.
# # #