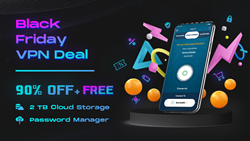 We understand how online shoppers can be in danger, so we encourage netizens to exercise total security by shielding themselves with a VPN. This way, sensitive information does not land in the wrong hands, ensuring users enjoy a pleasant online shopping experience.
SINGAPORE (PRWEB) November 24, 2021
As Black Friday looms around the corner, Ivacy VPN, the recipient of the fastest VPN award, drops a 90% discount on its VPN Black Friday deal. Where the end of 2021 offers an abundance of price cuts and sales, spending on a VPN could turn out to be the best investment ever, claims the cybersecurity company.
Given how aggressive cybercriminals are during the online shopping season, getting a Black Friday VPN deal should be number one on the shopping list.
Also, by using a VPN, users can access markets of different regions and avail discounts online, which they can't otherwise.
It is worth noting that the heavily discounted VPN deal also comes with 2TB encrypted cloud storage and a password manager at no extra cost.
To avail this deal, users can go to this link.
The internet certainly is not safe, and becoming prey to online fraud or scams can be traumatizing. Globally, digital security companies speak volumes concerning the imminent danger of cyberattacks, while laws are being implemented to monitor cybercrimes closely.
It is admirable to see how corporations like Ivacy VPN play a significant role in fighting online crime, shielding users' digital footprints while allowing them to experience true internet freedom.