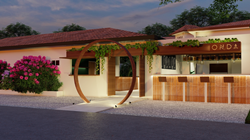 ONDA is leading the emergence of a new segment, in response to COVID, that will impact the hospitality industry the same way that fast casual impacted the dining industry in response to the Great Recession
PLAYA GRANDE, Costa Rica (PRWEB) November 30, 2021
ONDA today announced that it had raised, via an affiliate, $1.1M in equity funding from private investors, including Raindrop Partners, to facilitate the acquisition and conversion of its flagship hotel in Playa Grande, Guanacaste, Costa Rica.
Started in July 2020, ONDA seeks to become a leading player in a newly-emerging hospitality segment that exists in the white space between hostels, hotels, and coliving which seeks to capitalize on changing consumer preferences and the "future of work."
ONDA's flagship location, which was acquired in July 2021, is currently being revitalized ahead of its early 2022 debut. Management anticipates adding two additional Costa Rican destinations later in 2022, the locations of which have yet to be announced.
"ONDA is leading the emergence of a new segment, in response to COVID, that will impact the hospitality industry the same way that fast casual impacted the dining industry in response to the Great Recession," said ONDA Founder and CEO, Bill Graf. "Our goal with the Playa Grande location is to develop a replicable model that will allow us to deliver a best-in-class experience to guests, employees, and the communities in which we operate in a scalable, sustainable fashion."
Zach Frisch, Principal at Raindrop Partners, added "The COVID-19 pandemic has fundamentally altered the way many people work and live. Consumer preferences have changed; people want to be able to travel for extended periods of time while working and socializing with other travelers. I'm seeing many new hospitality concepts emerge in Costa Rica that seek to capitalize on these trends. ONDA's unique real estate model gives it a competitive advantage in terms of guest experience, speed to market, and investor ROI."
ONDA Playa Grande is currently accepting reservations for its soft launch period at http://www.stayonda.com.
For investor inquiries, please contact:
bill@stayonda.com
For press inquiries, please contact:
press@stayonda.com
For real estate partnership inquiries, please contact:
realestate@stayonda.com
Website + Social:
http://www.stayonda.com
https://www.facebook.com/findyouronda
https://twitter.com/findyouronda
https://www.instagram.com/findyouronda/
https://www.linkedin.com/company/findyouronda
About ONDA:
ONDA CR Limitada d/b/a ONDA is a hospitality startup designed for travelers who want to see the world, work remotely and socially connect with other adventurers.
ONDA aims to provide guests with memorable travel experiences, in a social environment, surrounded by beautifully-designed, comfortable spaces. ONDA, which was started by three friends who have spent their lives exploring the far reaches of the globe, aims to bridge the gap between hostels, hotels and coliving.
ONDA's flagship location, located in Playa Grande, Costa Rica, will open in January 2022. Bookings can be made at http://www.stayonda.com.
About Raindrop Partners:
Raindrop Partners is an experienced real estate development and investment company focused on exclusive hotel and resort developments in Costa Rica and Panama. Our team is comprised of knowledgeable and passionate locals, seasoned commercial real estate developers, environmentalists, engineers, architects, and design professionals. We have a full time presence in both Costa Rica and the United States.