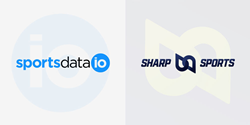 "Looking at SportsDataIO we saw a premier provider of sports data, most importantly their odds offering is one of the most robust in the industry. This made them a natural ally as we look to engage with the rapidly growing U.S betting industry."
CONSHOHOCKEN, Pa. (PRWEB) November 23, 2021
SportsDataIO and SharpSports announced today that they have entered into a partnership to bring SharpSports' BetLink technology to SportsDataIO's widgets platform, making the combined offering the only pre-built bet tracking solution on the market.
BetLink allows brands the ability to offer their users a way to link their sportsbook accounts which automatically updates within their bet tracking tools as wagers are made, won, and lost. As part of the partnership, SportsDataIO has built a bet tracking tool on their widget platform that's fully integrated with BetLink, allowing those same brands the ability to deploy BetLink in a fraction of the time.
Dustin Sullivan, President of SportsDataIO said, "With this partnership, organizations can now provide their audience with a cradle-to-grave sports betting experience. Utilizing our current data and odds content, users can track lines from the moment they open until the game is complete. And thanks to the BetLink integration, those same users can see real-time insights on their betting performance." Sullivan added, "SportsDataIO is always looking for new avenues to innovate. Whether it's new data feeds, products like our widget platform, or partnerships like with SharpSports we remain committed to providing the most comprehensive solution set in the sports data space."
Ryan Murphy, CEO & Founder of SharpSports added, "We're beyond excited to be partnering with SportsDataIO. SharpSports is devoted to providing multiple avenues for 3rd parties to utilize our innovative technology. SportsDataIO's client list provides distribution while their widget platform allows BetLink to be deployed quickly and easily. Looking at SportsDataIO we saw a premier provider of sports data, most importantly their odds offering is one of the most robust in the industry. This made them a natural ally as we look to engage with the rapidly growing U.S betting industry."
SportsDataIO widgets are UI (user interface) components that can be easily added to any front-end application, are responsive for both web and mobile, and update in real-time as pages load for users. They also come fully loaded with backend features such as affiliate link management tools, built-in IP detection and reporting.
Both SportsDataIO and SharpSports also offer native API products that allow for greater customization of their offerings. While these products are incredibly popular and useful on their own, the need for a "plug and play" solution is one the sports betting market has been clamoring for. By working together the two companies have created something that makes it possible for organizations of all sizes to easily engage with users who are just getting used to the variety and accessibility of online sportsbooks.
As sports betting continues to grow and legalize in more states the competition for bettors will become more intense. Sportsbooks will look to collaborate with ecosystems that drive user engagement, insights, and most importantly dollars into their coffers. SportsDataIO and SharpSports are leaders in the blossoming technology sector focused on the interaction between 3rd parties and sportsbooks.
About SportsDataIO:
SportsDataIO was founded in 2008 and has grown to become a leading U.S. sports data company, providing real-time data, news and image feeds across all major sports to the gaming, fantasy and media verticals. Headquartered in Philadelphia PA, SportsDataIO is privately held and debt-free, servicing more than 200 clients globally.
About SharpSports:
Founded in March of 2020 by Ryan Murphy and Sam Coolidge, friends since their days at Columbia University, SharpSports is the Plaid of sports betting. Sharps Sports provides the easiest way to connect your applications, content, and tools to consumers' sports betting accounts to deliver automated bet tracking, personalized content, and facilitate bet placement. Backed by industry leaders like Dave VanEgmond, Cal Spears, Jeremy Levine, and Joey Levy, they are well positioned to drive innovation for years to come.