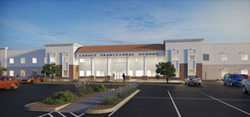 "Legacy Traditional Schools have a track record of academic achievement and tremendous community support. We're excited to meet the overwhelming demand for school choice in the San Tan Valley and widen access to Legacy's high-achieving, well-rounded approach to learning."
CHANDLER, Ariz. (PRWEB) November 24, 2021
Legacy Traditional Schools, a network of public, tuition-free charter schools in Arizona, Nevada, and Texas announced a new K-8 campus in the San Tan Valley. Families are now encouraged to apply now for the 2022-23 school year.
The 10-acre, 87,000 square-foot facility designed by Knit Studios, is Legacy's 20th campus in Arizona serving students in kindergarten through eighth grade. Legacy Traditional School - San Tan opens for the fall 2022-2023 school year at the southwest corner of West Empire Blvd and North Gary Road.
The Arizona-based school system earns high marks on statewide assessments and consistently outperforms its charter and district school peers. At every Legacy school, students receive a tuition-free, rigorous, and well-rounded education that emphasizes all areas of academic study, including the arts, physical education and extensive athletics and extracurricular activities.
In October 2021, Legacy Traditional Schools in Chandler, Gilbert, and Maricopa were named in the top 10 in U.S. News Best K-8 Schools Rankings for Arizona charter elementary and middle schools.
"Legacy Traditional Schools have a track record of academic achievement and tremendous community support," said Nicole Kirkley, chief academic officer and interim superintendent of Legacy Traditional Schools. "We're excited to meet the overwhelming demand for school choice in the San Tan Valley and widen access to Legacy's high-achieving, well-rounded approach to learning."
The San Tan campus will enroll up to 1,350 students and offer tuition-free Kindergarten through 8th-Grade. When completed, the campus will consist of 47 classrooms, offices, a gym, athletic fields, a library, a piano lab, indoor basketball court and artificial turf field, a commercial kitchen, and a cafeteria. The school will offer:

Kindergarten through 8th-Grade
Well-rounded education
State-of-the-art facilities
Before- and after-school programs
Free breakfast and lunch
Sports and music curriculum tracks
Competitive after-school sports
To apply, take a virtual tour, and learn more about Legacy - San Tan, visit legacytraditional.org/santan